A student-run organization
The Social Work Leadership Committee was established in October 2016 and created many ways for social work students at the College to be involved:
Hosted a Spring 2016  social work pizza party
Developed and filled student leadership positions in SWLC
Met goal of meeting twice each semester to do planning and achieve other goals.
Worked with faculty to develop materials on social work major and social work in general to use as informational tools with prospective students, families, etc.
Offered suggestions for possible social work electives, a social work specific capstone course, expanding Human Trafficking course from 3-4 credits (which faculty achieved this academic year), overall GPA requirements, and possible changes in Ethnic Relations course
Discussed preliminary ideas for how to support social work students in the application process
Began planning a social work night for freshman
Generated ideas for an annual senior showcase each spring, beginning in 2017:

Display boards/potential art projects/presentations to share student research experiment & investigation for a capstone project (not yet set)
Invite families/parents/community stakeholder
Cater event-have local business donate food and acknowledge them
Get feedback from student cohort about this event
The Leadership Committee's priorities for the 2015-2016 Academic Year included:
Introducing social work students to the committee
Increasing visibility of Social Work major and presence in the College's community
Developing connections with students in social work program (from freshman to senior, residential and commuter students)
---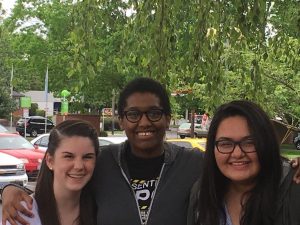 This organization began in October 2016 with student leaders selected by the social work faculty from cohort of social work majors in the newly established social work major that is undergoing the CSWE accreditation process. Active founding student members included Gabriella Wolpert '15, Kalah Taylor-Florence, Nancy Tovar '16, Caitlin Asher, and Mariah Cooper.
A student leadership team was then voted into office in March 2016 by students that had declared social work majors. Officers for the Academic Year 2016-2017 are Caitlin Asher, President, Montse Astorga Ramos, Vice President, and Kalah Taylor-Florence, Secretary. To be part of the leadership, students must have a commitment to lead, an interest and commitment to attend monthly SWLC planning meetings, active involvement with social work major/cohort—availability in schedule, and an interest in being a representative with faculty in matters of social work curriculum, policy, social work events,  budget for events, student rights and needs, etc.