With a Bachelor of Social Work (BSW) degree, you are trained to positively impact the lives of those in need and to empower individuals, groups, and families to make healthy changes in their lives. Additionally, you learn how to empower organizations and communities in order to evoke changes and enhance the functioning of these systems. In your work, you uphold values of social, environmental, and economic justice, and shine a light on conditions that marginalize people or limit their rights.
The Warner Pacific University Social Work faculty are dedicated to preparing future social workers with the knowledge, values, and skills needed for competent generalist social work practice. With a full-time equivalent faculty-to-student ratio of 1:15 and embedded one-to-one student-faculty interaction, relationship is at the heart of the Social Work Program. Faculty are passionate about guiding, supporting, and mentoring each student in their professional development to positively impact the world and to meet the diverse needs of communities, locally and globally.
The Social Work Curriculum
The Social Work curriculum builds upon the foundation of the general education core and is comprised of 14 courses (48 credits) in the major plus four prerequisites (12 credits) for a total of 60 credits. There are also many recommended electives for students to explore that pair well with the field of social work. The following table displays the BSW required courses.
Prerequisites:
BIO 121 | Introduction to Anatomy and Physiology | 4 credits
BUS 195 | Internship Preparation | 2 credits
PSY 140 | General Psychology | 3 credits
SOC 140 | Principles of Sociology | 3 credits
Bachelor of Social Work Required Courses 48 credits*: 34 in residence, 34 upper division.
SW 200 | Exploring Social Work | 3 credits
SW 330 | Life Span Human Development | 3 credits
SOC 340 | Race and Ethnic Relations | 3 credits
SOC 345 | Social Problems and Public Policy | 3 credits
SW 380 | Practice I: Individuals | 4 credits
SW 385 | Practice II: Families and Groups | 4 credits
SW 390 | Practice III: Organization and Communities | 4 credits
SS 393 | Research Methods and Applied Statistics | 4 credits
SW 420 | Addictions, Mental Health, and Trauma | 3 credits
SW 485 | Human Trafficking and Human Rights | 3 credits
SW 491 | Field Practicum I | 5 credits
SW 492 | Field Practicum II | 5 credits
SW 495 | Field Practicum Seminar I | 2 credits
SW 496Field Practicum Seminar II | 2 credits
* Warner Pacific does not grant Social Work course credit for life experience or previous work experience.
Mission:
To equip students for ethical and competent generalist social work practice based on a liberal arts education within the context of a Christ-centered, urban, and diverse community to positively impact the world.
Goals:
Demonstrate mastery of the knowledge, theory, and historical context of the profession of social work within a liberal arts base to be able to consider a myriad of social problems and act to prevent or intervene;
Integrate interdisciplinary knowledge with the values and ethics of social work to focus on promoting justice and common good;
Consistently show strengths-based practice behaviors and skills that are congruent with ethical, competent, and creative social work practice; and
Apply the knowledge, values and skills of social work with multi-level systems and clients in order to enhance quality of life and instill hope for the future.
Competencies:
Through a rigorous course of study and trauma-informed curriculum, BSW students develop the ability to:
Demonstrate ethical and professional behavior
Engage diversity and difference in practice
Advance human rights and social, economic, and environmental justice
Engage in practice-informed research and research-informed practice
Engage in policy practice
Engage with individuals, families, groups, organizations, and communities
Assess individuals, families, groups, organizations, and communities
Intervene with individuals, families, groups, organizations, and communities
Evaluate practice with individuals, families, groups, organizations, and communities
Learn More About Field Education
Social Work Student Handbook & Field Education Manual
National Association of Social Workers (NASW):
The NASW Code of Ethics provides values, principles and standards to guide decision-making and professional conduct of all social workers. Social workers can be found in schools, social service agencies, assisted living facilities and nursing homes, hospitals, clinics, and countless other work environments, all of which are held to the same professional ethical standards.
Board of Licensed Social Workers:
Upon completion of the social work degree, graduates may apply for Registered Baccalaureate Social Worker (RBSW) licensure. Please visit the Oregon Board of Licensed Social Workers for additional information.
Council on Social Work Education (CSWE) Accreditation:
Warner Pacific University's BSW program is accredited by the Council on Social Work Education (CSWE). The Council on Social Work Education (CSWE) is recognized by the Council for Higher Education Accreditation as the sole accrediting body for social work programs in the United States. Accreditation by CSWE indicates that the BSW program meets or exceeds criteria for assessment of program quality, has sufficient resources to meet its missions and goals, and is in compliance with all sections of the Educational Policy and Accreditation Standards.
Social Work Leadership Committee (SWLC)
Social Work Advisory Committee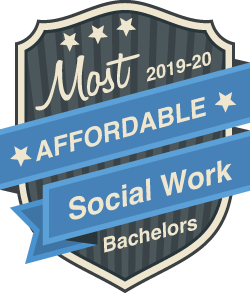 Social Work Program Assessment Data
Warner Pacific named most affordable private Bachelor of Social Work program in Oregon.