Visit Warner Pacific
Visiting campus is an important part of choosing the college that's right for you. We are thrilled that you are interested in visiting Warner Pacific University and we can't wait to show you around!
We offer tours of our campus from 9 am – 5 pm, Monday through Friday.
Please select one of the following options for the type of Warner Pacific tour you would like to arrange:
Individual Visit
Grades 7 – 10
Grades 11 – 12
We also offer overnight visit experiences where you can get a true taste of college life. If you would like more information, please contact your Admission Counselor.
Where to Go
Our Mt. Tabor campus is located at 2219 SE 68th Ave, Portland, OR 97215.
You'll begin your visit in the Admission Office on the 2nd floor of Egtvedt Hall, which you'll find directly connected to the main parking lot off of our SE Division entrance. Visitor parking is clearly marked.
Where to Stay
There are many lodging options near our University campus.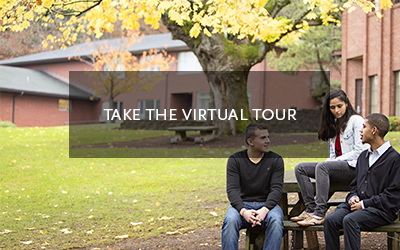 Plan your personalized visit to Warner Pacific
Individual Visits provide a personalized glimpse at being a university student at Warner Pacific. During your visit, you may have the opportunity to tour our campus with one of our student guides, have a meal in our dining hall, and even meet a faculty member from the major you are hoping to pursue. Please use this form to schedule your visit, and you will be contacted by our Office of Admission to finalize your visit to campus.
Photos or video taken at our events or campus visits may be used in University promotional materials. If you are pictured and would like us to discontinue using the photo, please contact us.
As required by Title IX and 34 CFR §106.9, Warner Pacific University does not discriminate on the basis of sex in its educational programs and activities.