Campus Visits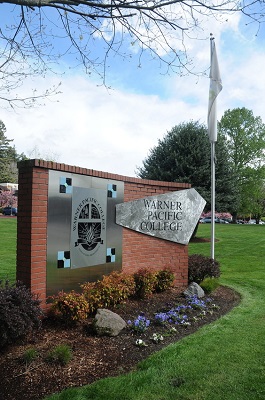 There is no greater way to experience Warner Pacific than to visit our campus. While you're here you can meet students, faculty and staff who will tell you firsthand about the wonders of Warner Pacific. You will likely meet one of our student ambassadors – The Knights - who will show you around campus and tell you what it's really like to be a student at Warner Pacific.
Our daily visits include many options for you to explore our campus: a comprehensive campus tour, a wide variety of classes, chapel, personal interview time with an Admissions Counselor, informational sessions with our Athletic Director (for prospective athletes), and coffee or lunch with one of our student ambassadors.
We invite you to come visit us any time – you can even schedule your own personalized visit online! You may also schedule your visit by calling our Visit Coordinator at 800.804.1510 or 503.517.1020. Because we want to ensure that your visit is as comprehensive as possible, please try to give us at least one week's notice before your arrival.
Preview Days (Offered in Fall & Spring)
In the Fall and Spring, we encourage students to attend a WPC Preview Days event, which gives a student an opportunity to spend two full days on our campus!
This event is a wonderful and fun opportunity for students to see our campus and spend some time exploring life at WPC – from academics to campus ministries, to life in the residence halls. Register for this events by calling our Visit Coordinator (see above) or by signing up online.
Where to Go
Our campus is located at 2219 SE 68th Ave, Portland, OR 97215.
You'll begin your visit in the Admissions Office on the 2nd floor of Egtvedt Hall, which you'll find directly connected to the main parking lot off of our SE Division entrance. Visitor parking is clearly marked and there just for you.
If necessary, we'd be happy to pick you up from the airport, train, or bus station – just make arrangements with us in advance!