Posted on August 21st, 2023 in News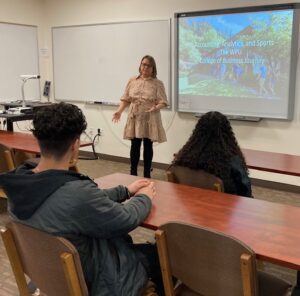 As a new academic year dawns, Warner Pacific University's Business Division is thrilled to unveil two revised curricula (Bachelor of Arts in Accounting and Digital Marketing minor) and introduce two fresh program options (minor in Healthcare Administration and Associate of Arts in Organizational Dynamics). 
The initial curriculum enhancement targets the Bachelor of Art in Accounting, now available online for Professional and Graduate Studies (PGS) students. Dr. Ulf Spears, the Dean of the Business Division, emphasized the goal of enhancing accessibility for working adults, stating, "This online degree caters to the flexibility that students require." 
The second enhancement involved revising the Digital Marketing minor intended for Traditional (TRAD) students. Dr. Spears explained, "We heeded the input from professors and students who sought specific skills. Consequently, we adapted the curriculum and course requirements based on their feedback." 
In terms of novel offerings, the Business Division introduces a minor in Healthcare Administration. Dr. Spears clarified the rationale behind this addition: "Observing that students with business degrees were entering healthcare roles without industry experience, we saw the need for this program. By introducing this minor, students can now acquire healthcare exposure alongside their business degree." 
The second addition is an Associate of Arts in Organizational Dynamics, with a focus on Christian Entrepreneurship. Offered within the PGS program, this degree is a collaborative effort with Joseph Business School (JBS), a Christian business institution situated in Forest Park, IL. Read more about this program here. 
"The Christian Entrepreneurial piece is an emerging market for Christian leaders," Dr. Spears noted. "This also aligns with our mission that we provide our students with a well-rounded education to build character, spirituality, and real-life skills to be successful in business." 
"This certificate, along with the minor in Healthcare Administration, are wonderful opportunities for students to add a feature to their degree," Dr. Spears continued. "They can go with any Traditional degree here at Warner Pacific and will provide students with real life training which is crucial for their future careers."   
If you have any questions about these offerings, please contact Dr. Ulf Spears at USpears@warnerpacific.edu for more information.  
---