WP named a Great School at a Great Price by U.S. News & World Report
September 10, 2013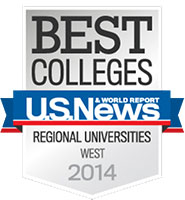 Warner Pacific College was ranked in the Top 10 Regional Colleges and named as a "Great School at a Great Price" by the U.S. News & World Report Best Colleges 2014 edition.
Warner Pacific College is one of the Top 10 Regional Colleges – West, an area that comprises institutions from 14 states. Colleges were ranked using a robust methodology which includes graduation and retention rates, assessment by peers, faculty resources, financial resources, and graduation rate performance. According to the Carnegie Classification of Institutions of Higher Education, schools ranked by region focus largely on the undergraduate experience and offer a broad range of programs in the liberal arts and in fields such as business, healthcare, and education. Schools in this category, like Warner Pacific, draw heavily from nearby states when recruiting students.
"As a small college, we are honored to be nationally recognized for the quality of our educational environment," said Dr. Andrea P. Cook, President of Warner Pacific College. "Through engaging programs like our First-Year Learning Communities and innovative majors like our Social Entrepreneurship degree, Warner Pacific students experience a unique blend of rigorous study and authentic relationship which provides them with the confidence they need to seek a career that is both professionally rewarding and personally fulfilling."
Additionally, Warner Pacific was recognized as one of the Top 10 Best Values in Regional Colleges – West, a distinction that is at the very core of the College's mission to make Christian higher education accessible to as many qualified students, and their families, as possible. Warner Pacific reduced tuition significantly in 2008, and has worked hard to keep it an affordable level each year, offering tuition and fees of less than $20,000 a year, which is 33% lower than the average private college in Oregon and Washington.
"We're very aware of the financial strain facing many families," said Dale Seipp, Jr., Vice President for Enrollment and Marketing. "That is why we are committed to keeping increases in tuition, fees, room and board to a minimum, providing affordable, Christ-centered, private liberal arts education that serves students and families for whom college has been out of reach."
In addition to internships, service opportunities, and study abroad programs, Warner Pacific College also offers a wide variety of clubs, organizations, artistic groups, and leadership opportunities. Using the city as their classroom, students develop the skills necessary to become life-long learners who are prepared to face a rapidly changing world.
You can purchase the complete U.S. News & World Report Best Colleges 2014 edition at www.usnews.com/colleges to view the web exclusive rankings.