WP Offers Oregon's 1st Social Entrepreneurship Major
September 3, 2013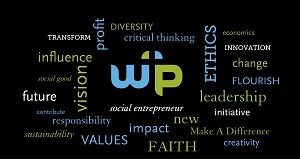 Committed to developing young leaders who work toward positive change in the city, Warner Pacific College has launched a new degree program, the Bachelor of Science in Social Entrepreneurship. The first of its kind in Oregon, the Social Entrepreneurship major at Warner Pacific equips students with the expertise needed to create innovative business ventures that address society's most pressing challenges.
A social entrepreneur identifies small- and large-scale social problems and takes responsibility for providing sustainable solutions. Social entrepreneurs are visionaries, committing their lives to transform society. At Warner Pacific College, a service-oriented, faith-based approach to community outreach will help students exploring the Social Entrepreneurship major to gain practical experience through dynamic coursework, motivating them to engage with the community and the world beyond.
During the senior year, in conjunction with their internship, Social Entrepreneurship majors will be required to identify a need within the community and then create a small entrepreneurial business to meet that need; this is known as the Capstone Project. At the core of the Capstone Project, is a team made up of the student, a Social Entrepreneurship Advisory Board (SEAB), community partners, and faculty members. This team will work toward the common goal of creating free enterprise while meeting community need, providing students the opportunity to apply classroom theory to real life practice. The culmination of the Capstone Project is the awarding of a cash prize for the best business plan, allowing students to become real-world social entrepreneurs by the time they graduate.
"I am very happy for the opportunity to participate on the Social Entrepreneurial Advisory Board at Warner Pacific as they roll out this exciting new Social Entrepreneurial Major," said Tom Mears, Burgerville Chairman. "More and more, the world and Portlanders are realizing that there is a better way to conduct business that allows companies to thrive while contributing to the overall well-being of the entire community; where faith and work are not separate and distinct but actually are integrated as one and the same. I look forward being a part of these students' development and to watch the impact they will have on our community."
Earn your B.S. in Social Entrepreneurship,  contact a Warner Pacific Enrollment Counselor at 800.804.1510 or admissions@warnerpacific.edu.
For information regarding the creation of this new academic program, contact the Chair of the Department of Business at Warner Pacific College, Dr. Roger W. Martin, at 503.517.1035 or rmartin@warnerpacific.edu.
Portland-area business owners who would like to learn more about serving on the Social Entrepreneurship Advisory Board (SEAB) should contact Dr. Aaron McMurray, Vice President of Institutional Advancement and External Relations, at amcmurray@warnerpacific.edu or 503.517.1220.