Ohta Picked to Lead Knights Softball
January 11, 2019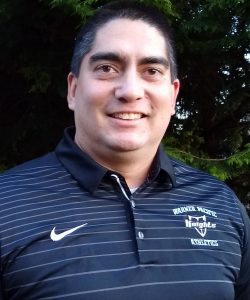 Warner Pacific University welcomes Nathan Ohta as head coach of the recently launched softball program. Ohta will begin recruiting immediately to fill the roster for fall 2019, with plans to begin competition in the National Association of Intercollegiate Athletics (NAIA) in spring 2020.
With over a decade of experience at the NAIA and NCAA Div. III levels, Ohta's most recent post was at George Fox University in Newberg, as an assistant coach for the Bruins under Jessica Hollen for two seasons. He helped the squad to a 55-28 record, a Northwest Conference Championship, and two post-season appearances.
Ohta was the head coach at Cascade Collegiate Conference (CCC) member Corban University for nine seasons. After one season as an assistant, he took the reins of the program and guided his teams to a 257-171 record and a CCC Championship in 2013. That same year he was named CCC Coach of the Year.
"We were blessed to have a good pool of quality coaches show interest in leading our new Knights softball program," said Mike Wilson, director of athletics at Warner Pacific University. "Nathan stood out thanks to his experience in the Cascade Conference, his record of success on the field, and his Christ-centered approach. He has a genuine care for student-athletes and will help them grow in all areas of their college experience. Nathan Ohta is well-suited to grow our softball team from its infancy."
Ohta graduated from Western Baptist College in 2002 with a Bachelor of Science in Mathematics and Mathematics Education. He received an M.S. in Education with an emphasis in curriculum and instruction from Corban University in 2012.
"I want to thank Mike Wilson and the rest of the staff at Warner Pacific University for giving me the opportunity to work with them to build this softball program," said Ohta. "I love the game of softball and am blessed to be able to continue my coaching career where I am surrounded by people whose goal is to help each athlete be the best they can be in all aspects of life. There are exciting days ahead for Warner Pacific softball and I am excited to be a part of them."
Prospective players are encouraged to contact Ohta or complete the recruiting questionnaire and begin the admission process.