Posted on January 18th, 2023
Volume 1, Issue 3

NEW YEAR'S GREETINGS!
Dear Community,
Each new year is a new beginning – a gift from God. As we enter 2023, I want to take a moment to reflect on the new beginnings we are honored to receive here at Warner Pacific University. As this month's e-newsletter describes, December's Commencement Ceremony celebrated the outstanding achievements of so many incredible students who are now stepping forth into professions that desperately need the strength of character and credentialed skillset they've gathered here to care faithfully for a broken world. Each and every hand I shook walking across that stage represented a victory – victory for that student in overcoming many challenges to earn his or her degree; victory for our staff and faculty in seeing our mission fulfilled in the eyes of our students; and victory in Christ, who provides us all with the means to do this important work again and again.
Now as we settle into January, we are delighted to celebrate another new beginning. At Warner, there are many opportunities to start your degree throughout the year – and just last week, my staff and I witnessed a fresh cadre of students commit to the Warner Pacific "PAC" which inducted them into an exciting educational path at WPU. These students represent the heart of our mission. They are multiculturally and economically diverse, eager to begin their education in a faith-based environment, and ready to work hard in pursuit of their goals. We pledge to do whatever we can to assist them in their endeavors. Please know there is a role for your help too – I always invite you to visit with us to learn how you can support fresh starts – or restarts – at WPU.
Your support and enthusiasm as alumni and friends of Warner is paramount to making these new beginnings possible. Working together, we can share the light of WPU with the world.
Thank you and God bless your 2023.



Brian L. Johnson, Ph.D.
President
A Very Special Day at WPU!
 
Reflecting on WPU's legacy as the most diverse Christian university in the Pacific Northwest
More than 130 graduates took part in WPU's winter commencement ceremony held December 17th. The event marked the beginning of careers from nursing to education, business to social services, and much more, with grads ranging in age from 21 to 68! The event also featured keynote speaker Oregon State Representative Ricki Ruiz (WPU Class of 2016); alumni speaker Reverend Andria Skornik (WPU Class of 2005); the WPU Perry Awards; and outstanding student speakers.
"It's the moment WPU Students and loved ones have looked forward to for years as the culmination of their academic accomplishment and beginning of a rewarding career," said President Brian Johnson. "We are so impressed by our students' persistence during these these pandemic years, and deeply proud of their Christian commitment to values of service and leadership. The world needs our graduates…we could not be more honored to be sending more multicultural, faith-filled leaders into the very professions that need them most."
"Our students come from all stages of life, and often have overcome great adversity to reach this milestone," said Interim Vice President for Academic Affairs, Dr. Miriam Chitiga. "Whether they are a traditional college-goer, or an adult student returning to achieve a new goal, we strive to walk with each and every one of our students and to empower them to fulfill their personal calling. We absolutely couldn't be more proud of our graduates."
Commencement Keynote Speaker


Oregon State Representative

Ricki Ruiz, WPU Class of 2016



"In life, it's better to aim high and miss, than to aim low and hit, so do not be afraid to challenge yourself to be the best you can be, regardless of the risk of failure."

"I was honored to deliver the December 2022 Commencement Speech for Warner Pacific University and more importantly to be in community with those who will receive their degrees. College graduation is a bittersweet time when a big chapter in life closes and a new one begins. Six years ago I
accomplished what many didn't believe I would. And I accomplished it with many by my side.  Through sacrifice and grit, we successfully manifested a dream I had dreamed of since I was a student at Reynolds. This achievement and celebration was one that was rare but meaningful for our family since celebrations like these had never really happened in our lives. The reality is, graduation is a time of reflection, a time of fear (because many might be thinking, what is next!?), but also a time of celebration." Ricki Ruiz went on to become one of the youngest state legislators to be elected in the State of Oregon.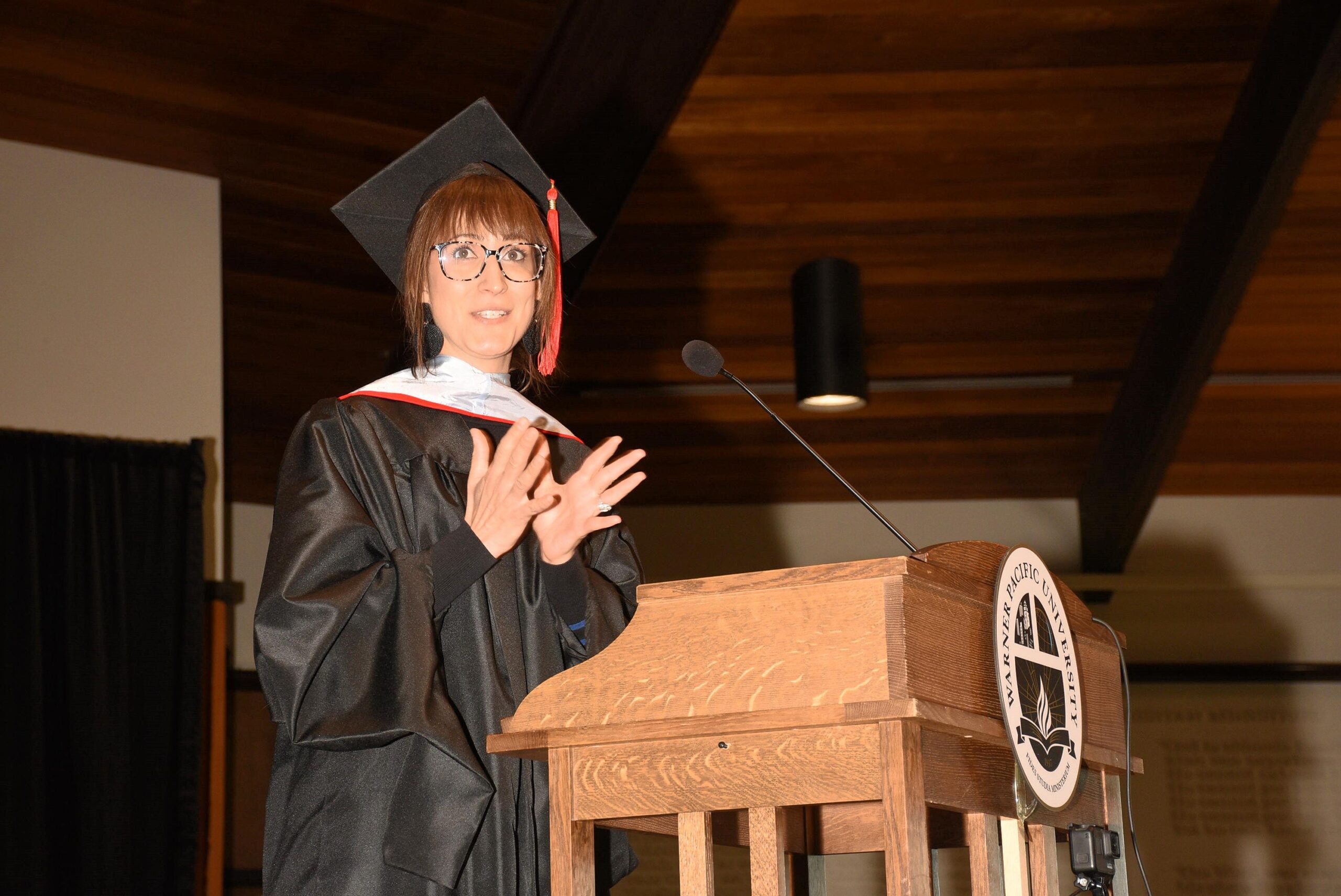 Alumni Speaker

Reverend Andria Skornik,
WPU Class of 2005
The Rev. Andria Skornik welcomed the newest group of alumni at December's commencement. She is currently the Rector of All Saints Episcopal Church and is honored to serve on the Warner Pacific University Board of Trustees. "Remember the words of angels who appear throughout the Bible," she said at the ceremony. "Very often the first thing said is, 'Do not be afraid.' So I encourage you: step out into your future with the full confidence that God is with you, and that you have what you need to do the work set before you."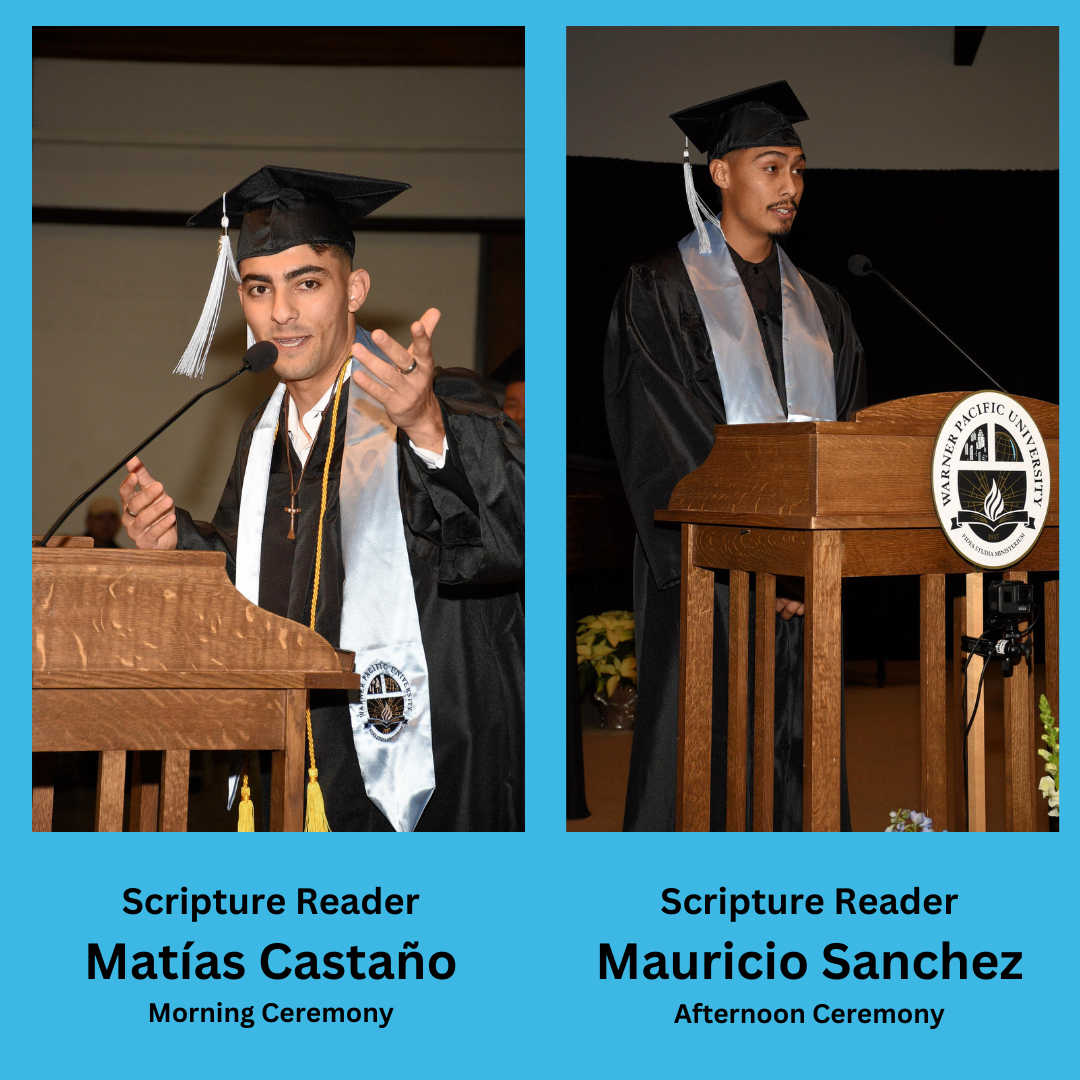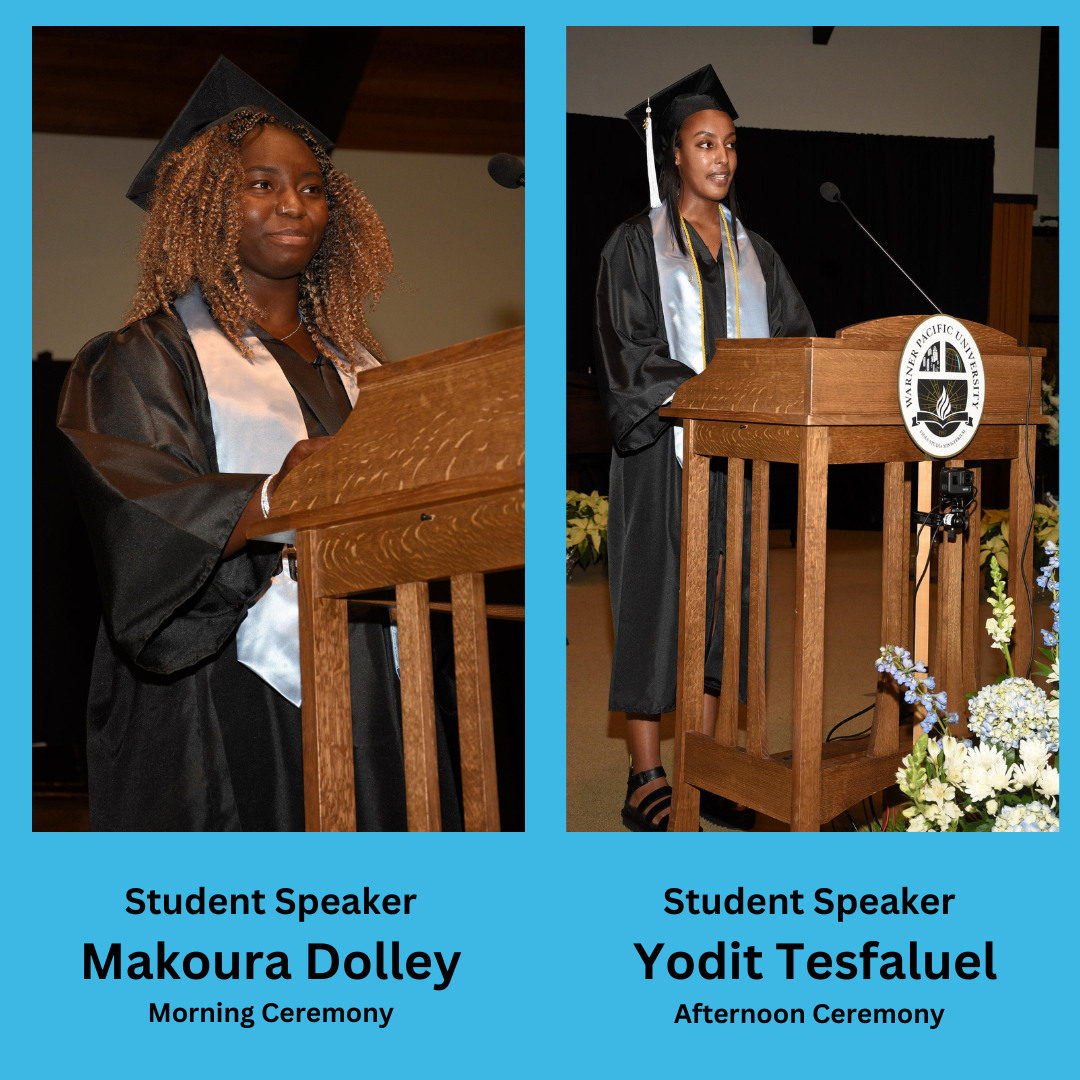 WPU Perry Awards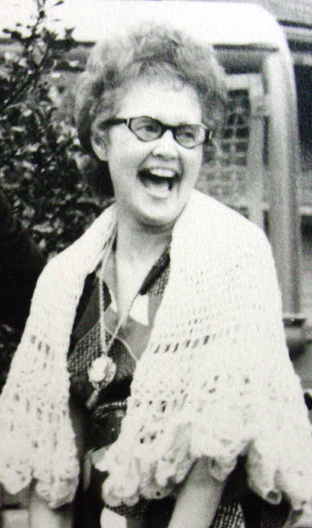 Dr. Wilma I. Perry embodied the many wonderful qualities WPU considers of high value for graduates of the Professional Graduate Studies program. As an adult student, she earned a doctorate in psychology from the University of Oregon and then joined the faculty at Warner Pacific, where she also directed the Center for Human Services. She was known for her speaking and teaching abilities, and as a gifted, published scholar. Dr. Perry's life was one of service, academic excellence, integrity and transformation.
Congratulations to Nancy Drummond and Yusuf Leary, recipients of this commencement's Dr. Wilma I. Perry award honoring graduates of the Professional Graduate Studies (PGS) program who exemplify service, academic excellence, integrity, and transformation!
Yusuf Leary, Master of Arts in Teaching (MAT), has served students and athletes through a variety of roles in the Portland Public Schools, including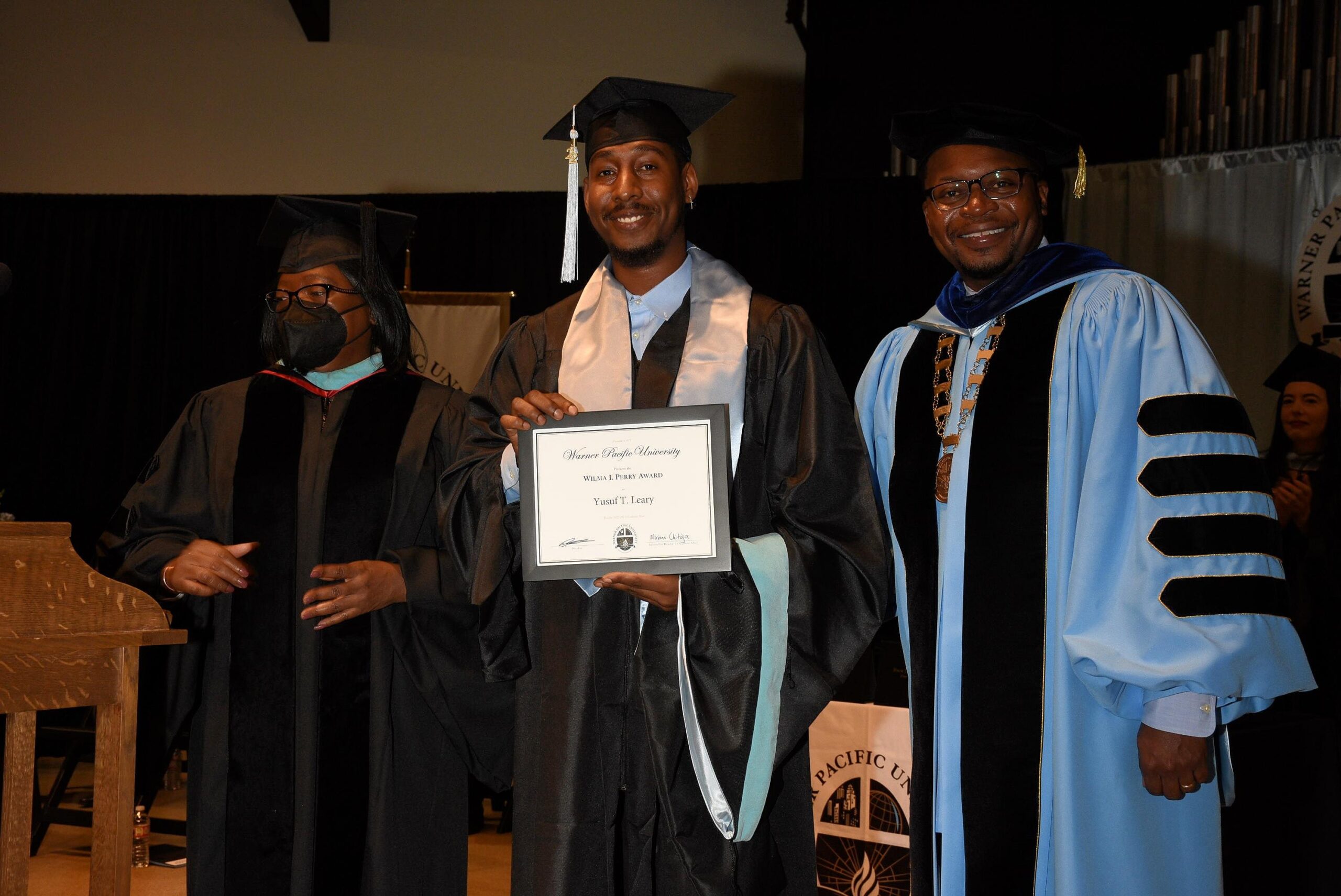 high school coach. He completed his MAT degree to become a licensed teacher and give back to students. As a student and as a leader, Yusuf champions the causes of Diversity, Equity, and Inclusion in tangible ways. His support of students of color in finding their voices and expressing their agency as significant contributors to their school communities is changing lives already!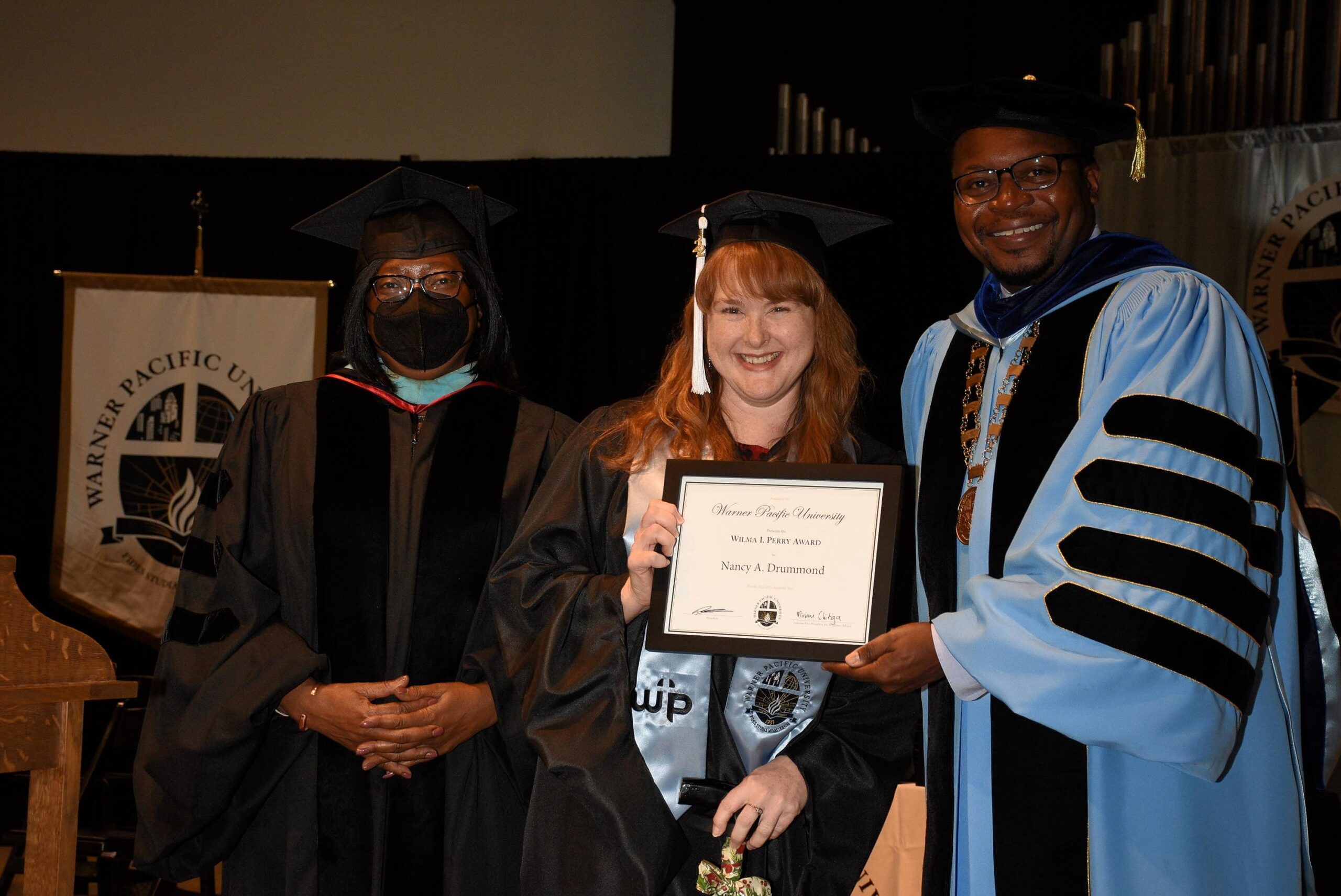 Nancy Drummond, Masters of Organizational Leadership, balanced her PGS coursework along with her full time job as WPU Assistant Director of Financial Aid. She is beloved by students, staff, and faculty and her tireless work helped many students find a pathway to fund their education that would otherwise have not been possible. She truly cares about each individual, finding ways to offer a word of encouragement at just the right moment.

"I Have a Dream"
President Johnson serves as Keynote for Albina Ministerial Alliance's


Annual Martin Luther King, Jr., Worship Service
"The time is always right to do what is right," said Rev. Dr. Martin Luther King, Jr.
WPU thanks the Albina Ministerial Alliance for affirming the power of these words by convening a wonderful time of worship and encouragement with their "Together We Can Be The Dream" event, held at the Allen Temple CME Church. Warner Pacific President Brian Johnson was honored to serve as keynote speaker for this city-wide event, discussing the intersecting duality of King's "Reverend" and "Doctor" titles — and the importance of both civic responsibility AND spiritual grounding as keys to success. WPU is proud to be looked upon as an institution that equips people with both character- and credential-building skills, rooted in our missional belief that God grants us a divine purpose and calling to all people. Thanks also to Oregon Senate President James Manning, Jr.; Portland City Commissioner Carmen Rubio, Multnomah County Commissioner Chair Jessica Vega Pederson; NAACP President James Posey; and President of Ecumenical Ministries of Oregon Frank So, for your inspiring words, and of course, Rev. Dr. LeRoy Haynes, Jr., and Allen Temple CME Church, for providing such a lovely moment of community in a beautiful church.
WPU Awarded $50,000 Grant
Warner Pacific University and the William H. and Mary L. Bauman Foundation share a demonstrated commitment to supporting education and improving student achievement. In recognition of that commitment, the Bauman Foundation recently awarded WPU a $50,000 grant in support of the Act 6 and City Builders scholarship programs.
"Now, more than ever, higher education is critical to individual success," said President Brian Johnson, Ph.D. "Warner Pacific is committed to providing the highest level of leadership, academic, and social opportunities to diverse, first-generation, and low-income students. The Bauman Foundation's continued support of these innovative scholarship programs will provide emerging, urban scholar-leaders a proven plan for success that will not only benefit them but our community as well."
The Bauman Foundation's generosity creates life‐changing opportunities for underserved, first generation college students who, rather than being selected solely based on their high school GPA or SAT scores, were nominated and selected for their demonstrated academic and leadership potential. During the current academic year, 2022‐2023, Warner Pacific University will support 13 Act Six and 27 City Builder scholars.
About the Bauman Foundation:
Born August 21, 1921, In Lancaster, PA, William Bauman moved to Oregon in 1939, and lived most of his live in the Sweet Home and Lebanon areas. In 1952, Mr. Bauman built his first lumber mill in Sweet Home. After selling the mill in 1962, he built the Bauman Lumber Company in Lebanon and later purchased the Lebanon Lumber Company. He operated the two mills for a number of years before selling the businesses to Willamette Industries in 1973. He also owned BCK Lumber Company in Oregon City which he sold to Publishers Paper Company in 1974. Mr. Bauman was a board member for the timber industry's Forest Products Council.
He served as a board member for Western Evangelical Seminary for 30 years and as chairman of the board for nine years. He was previously a member of Evangelical Church in Sweet Home and had served on the board of trustees for the Pacific Conference of Evangelical Churches. He was a member of Valley View Evangelical Church in Clackamas. During his years in Lebanon, Mr. Bauman served as president of the local Rotary Club and was director of the Lebanon Community Hospital. He also had served as director for Home Federal Savings and Loan.
ACT SIX/CITY BUILDERS SCHOLARHIP DINNER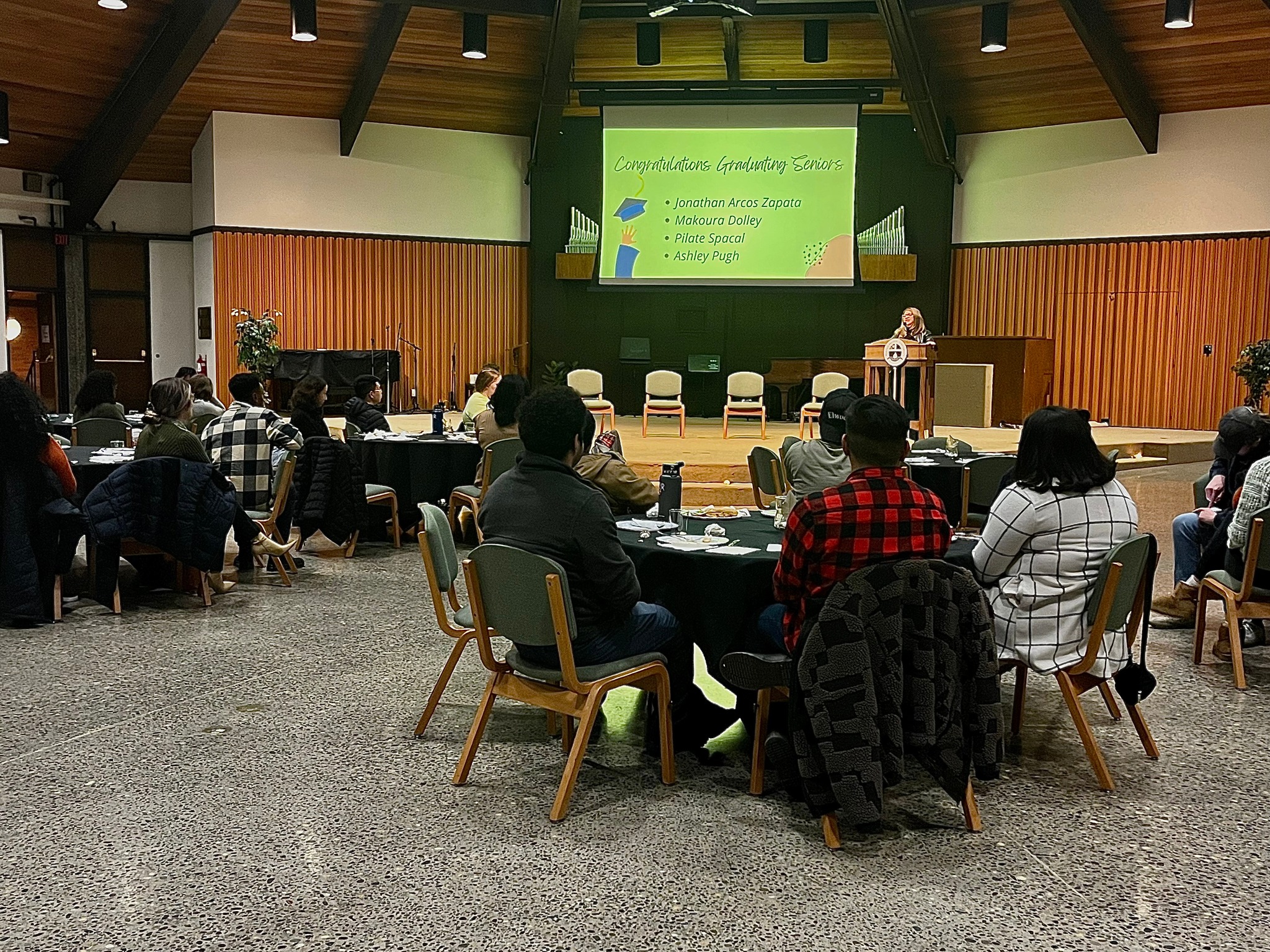 Act Six/City Builders Scholars were provided a peek at what life after graduation may hold for them at the December 2 Scholarship Dinner. A panel of former recipients shared information about how the scholarship affected their life and education and how the leadership roles they held at WPU prepared them for the workforce. Congratulations to the four Act Six/City Builder Scholars who graduated on December 17: Ashley Pugh – Business, Makoura Dolley – Social Work, Jonathan Arcos Zapata – Digital Media and Communications, and Pilate Spacal – Human Development. All four will immediately begin working full-time in their chosen professional careers.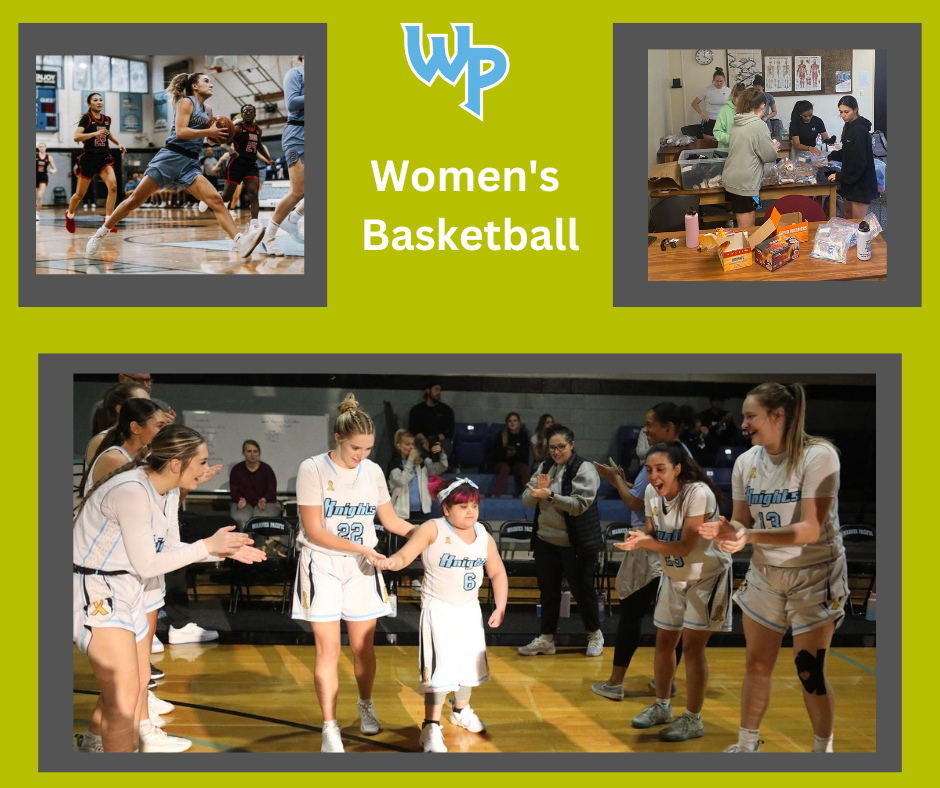 Leaders on and off the court
Although the Women's Basketball Team record is currently 0-14, it hasn't slowed the Lady Knights down from helping out in the community. In fact, a commitment to "Service to Community" has been a core component of the team's focus for the last several years.
The WPU Women's Basketball team consistently stays engaged in the community by hosting camps and open gyms for local youth and orchestrating a "Hoopin for the Homeless" campaign to collect donated socks each February. In December, the team collected more than 1,000 pairs of socks and put together 175 hygiene kits for delivery to the Portland Rescue Mission.
Their efforts have not gone unnoticed. In 2020 the team was voted National Champions of Character Team of the Year and in 2022 named the Cascade Conference Champion of Character Team of the Year.
"I am so proud of the effort the women put in on the court," Coach Matt Gregg said of the team. "Although this year certainly isn't going as we had hoped, and we can't change the outcome of games, we can try and make a difference in our communities."
In 2013, Team Impact, an organization that matches children facing serious illness with college sports teams contacted Gregg. Then 10 year-old Lexy De Los Reyes was matched with the team and has been announced with the starting lineup at every home game she is healthy enough to attend. For Coach Gregg, the best part of a game day is the 15 minutes he sits with Lexy on the bench to chat and "trade candy bars." In her ten years with the Knights, Lexy has celebrated her Sweet 16, attended every Christmas party, and sat the bench for nearly every home game. She has truly become a member of the Warner family.  READ LEXY'S STORY
National Emotional First Aid Course
One Day Workshop
Saturday, February 4,  McGuire Auditorium
Have you wondered what to say to someone during or after a time of crisis? The TIP National Emotional First Aid Course will give you the specific skills needed to assist friends, neighbors, coworkers, clients, family members and strangers immediately following any type of tragedy.
LEARN MORE
SPRING STUDENT ORIENTATION

New students for the Spring semester took the Warner Pacific "PAC" pledge this month, promising to put their faith into action through service to their community. Student Body President Jaquelyn Reyes urged students to "Pursue your dreams. You are capable of so much. You are Knights." Thirty-two new students will start classes next week, with the majority enrolled in Nursing, Pre-Nursing, or Science-related fields. President Johnson called upon the students to be a light for all the world to see, to find their God-given calling, and to "be the best you for your Creator."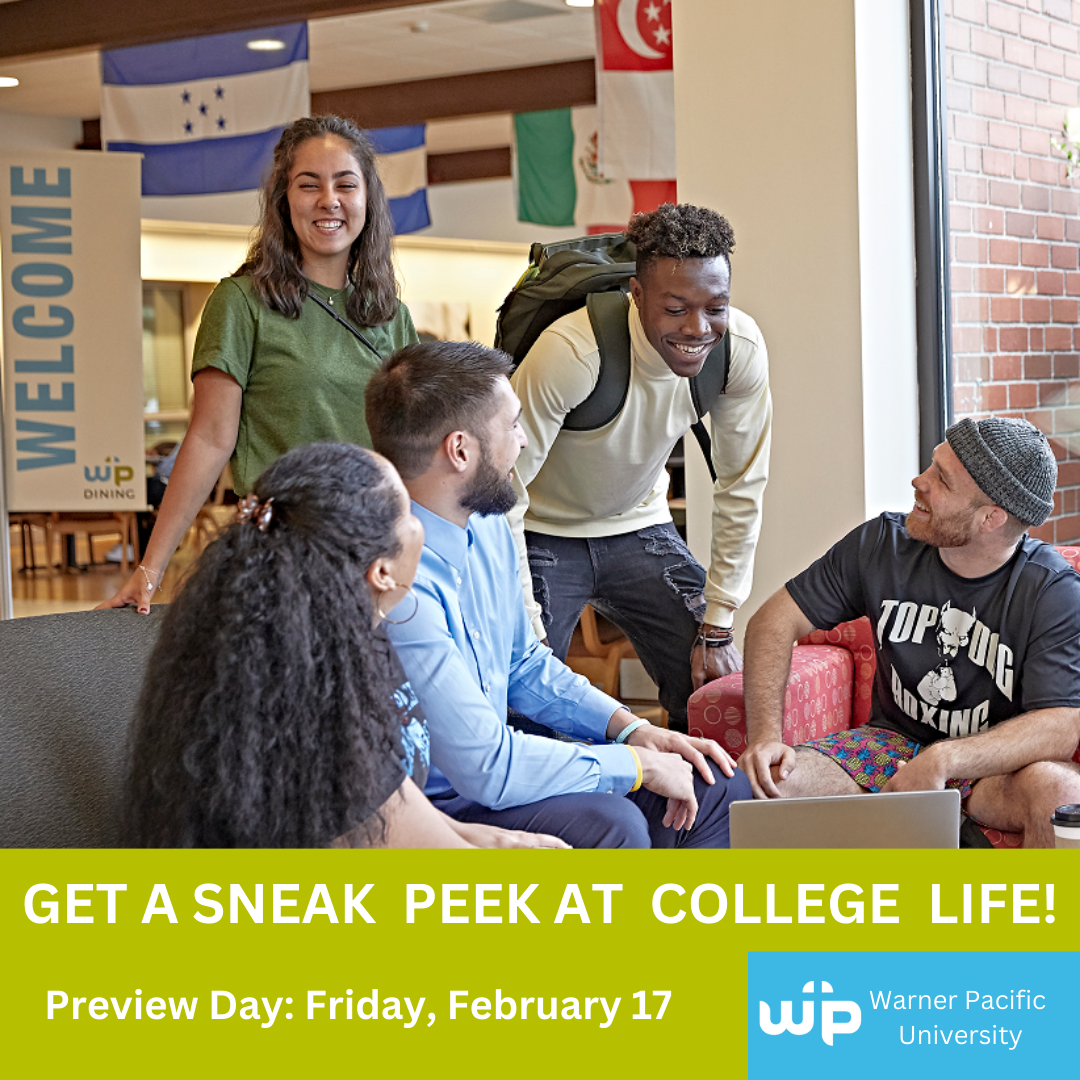 FOR YOUR CALENDAR:
January 17 Classes Resume
February 17 Preview Day
February 20 President's Day


Schlatter Chapel Worship

Wednesdays @ 7pm beginning 1/25
---