Posted on May 4th, 2023
Volume 1, Issue 6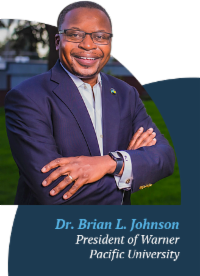 Greetings brothers and sisters!
As I write to you today, God has blessed us with one of the first of several glorious sunny days to foretell the coming summer here in Portland – the lawn rolling down from the A.F. Gray building is a vibrant green, and I can see students gathered on the grass outside now, connecting with one another and engaged in study. I am thankful to watch the rhythms of the academic year unfold on this beautiful campus.
April was of course Easter month – and I hope you and your family felt the miracle of this Holy time deeply and joyfully. Here at Warner Pacific, Easter comes at a time when students and staff members alike are in that final, difficult push before May's close to the academic year…it is a time of final papers and projects, many year-end special events on campus – and the close of an exciting sports season that culminates with our Women's Softball athletes wrapping up their final slate of games! As I wrote recently to our campus, it is important to acknowledge that Holy Easter Week commemorates moments of both despair and hope – both sorrow and rejoicing. But as we approach Easter Sunday, it is the assurance of VICTORY in Christ Jesus, and the security in knowing we have the EVERLASTING JOY of His resurrection, that lets us know we always walk in triumph when we walk with God, no matter what challenges are before us. We especially want our students to feel that truth as they approach the finish line of the academic year.
The love and encouragement that infuses WPU, thanks to your continued prayerful support, extends out to our community as well. This month we welcomed representatives from our accrediting body, the Northwest Commission of Colleges and Universities (NWCCU). Their visit is part of the important external-review process we voluntarily engage in, in order to assure our community that WPU is well-managed and offers excellent education that leads to meaningful careers. I am extremely, extremely proud of the staff and faculty who have worked diligently to prepare for this review. Our welcoming Christian spirit and commitment to serve diverse students is evident to our accreditors from the moment they set foot on campus! In addition, I want to share that I am humbled to have been nominated and endorsed to serve on the NWCCU Board of Commissioners, to represent all universities in the state of Oregon. This is an exceptional platform opportunity for Warner Pacific University, so we ask for your prayers as institutions in the Northwest cast their ballots.
In short, our community is feeling our faith-in-action and I remain in prayer that more and more future students will be drawn to study at Warner Pacific as a result. If you have a young person in your life who is seeking a path forward, or you know of an adult looking to advance a career (or are one yourself!), I encourage you to discover the wonderful Christian college experience we are offering here at Warner Pacific. Please reach out to me any time!
"Therefore encourage one another and build each other up, just as in fact you are doing." –1 Thessalonians 5:11
God bless you and your family!
Brian L. Johnson, Ph.D.
President
Knight News
Portland Public School District hosts annual awards at WPU
WPU was honored to host nearly 200 educators in the Portland Public Schools System at its "Torch Awards" ceremony held in McGuire Auditorium. President Johnson was joined by PPS Superintendent Guadalupe Guerrero, and shared the commonalities of our WPU Minority-Serving mission with the crowd: "We are partners in your work and we want to join with you in recognizing the dedicated and talented staff who work on behalf of all our young people in this community." The Torch Awards honor PPS employees for their service to the mission of developing capable, empathetic leaders of tomorrow.
Alder Elementary sends 'Young Knights' to Visit WPU
70 students from Alder Elementary visited our campus recently to get an idea of what it is like to be a college student. They heard from Dr. Sabrina Edwards (VP of Student Success and Engagement), toured the campus, saw Science Professor, Dr. David Terrell perform some "science magic" in the science lab, ate their lunches in the McGuire Auditorium, and took photos with Knightro, the school mascot.
This visit was part of the partnership between Alder and Warner's education departments. Many Warner students complete their practicums at Alder Elementary.
Warner Welcomes New Dean of PGS
Warner Pacific University is pleased to announce the appointment of Dr. Evans Akpo as Dean of Graduate, Professional, and Online Programs. Dr. Akpo earned a Bachelor of Arts and Master of Arts degree in International Relations from Webster University in St. Louis, Missouri, and he holds a doctorate in Executive Educational Leadership from Houston Christian University, Houston, TX specializing on factors influencing students' success. In his role at Warner Pacific University, he will be responsible for the overall operation of the Professional and Graduate Studies program and online education, including the accreditation of all graduate and professional programs, expanding the online learning footprint, budget development, revenue projections, course scheduling, curriculum decisions, academic assessment, hiring recommendations and any other decisions concerning operation of the Professional and Graduate Studies, and online education. Welcome to WPU family, Dr. Akpo! 
Congratulations Lorenzo Peterson ("Pastor Zo") and Matt Gregg!

Congratulations Lorenzo Peterson ("Pastor Zo") and Matt Gregg! After serving as Interim Student Chaplain and Interim Director of Athletics for the past year, they have both been made permanent in their roles and will continue to lead our university. Over the past year, students and athletes have flourished under their guidance and we couldn't be more grateful for their leadership and support.
A Vision for the Future
Imagine, what could Warner Pacific look like 10 years from now as we follow our core missional themes of Christ-Centered education, diverse student success, service for our city and community, and excellent liberal arts education? Campus leaders, staff and faculty engaged in a recent visioning exercise to ponder that question – and to ask how we continue to expand lives of purpose through excellent academics and Christian principles. Our faculty are continuously imagining new programs and student services. Check out all we are offering currently offering here!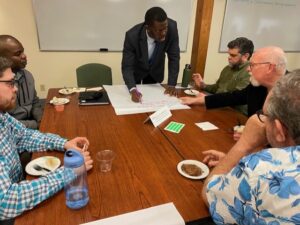 Spotlight on Students
In an effort to bridge the gap between student-athletes and student-leaders, Night of Knights is the annual awards banquet hosted by Athletics and SSE to recognize student-athletes and student-leaders. This event blends together to celebrate the accomplishments of the year and allow students to hear what the collective groups have done. In addition, this serves as a final hurrah for our graduating athletes and leaders, who receive their varsity letters and/or graduating cords. Congrats to all the winners:
The Luxe Award: Gelsi Tuz
WSOC MVP: Sophie Painter
The Emerging Leader Award: Elieza Mae Paule
MBB MVP: Thomas Miles and Isaac Etter
The Student Organization of the Year: Campus Activities Board
WVB MVP: Elizabeth Reid
The Diversity Engagement Award: Faith Arroyo
WBB MVP: Emily Brown
Commitment to Campus Transformation: The Natural Health and Sciences Department
The Community Life Award: Thien Tu
WSB MVP: Sammie Brauckmiller
The Campus Collaboration Award: Amy Engilis
MSOC MVP: Hunter Leach
The Partnership and Service Award: Marcos Romero Turner
Coach of the Year: Troy Ready
Team of the Year: Men's Soccer
The Presidential Excellence Award: Thien Tu
Champions of Character Award (M): Zi Long
Champions of Character Award (F): Alexis De Los Reyes
The Unsung Hero Award: Matt Gregg
Host Your Event at Warner Pacific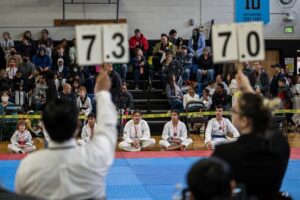 Did you know that you can host your event, staff meeting, sporting event, workshop, class or memorial service right here on the Warner campus? Venue spaces such as McGuire Auditorium, Egtvedt 203 and Schlatter Chapel are available for rent. Classrooms are available too. To find out more, follow this link: Host Your Event
Save the Date for Spring Commencement!
We are thrilled to celebrate the graduation of 120 Warner students on Saturday, May 13th. Our graduates and their families are invited to join us at 10am at Sunset Church in Beaverton. Congratulations Class of 2023! For more information, click here.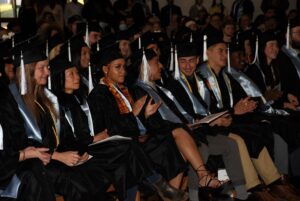 What does a scholarship gift mean to Warner Students?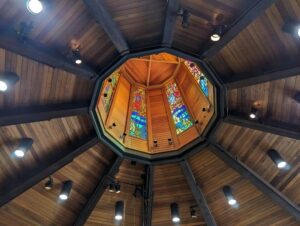 "A scholarship helped me to recognize my own academic achievement and potential."
"A scholarship made it possible to pursue my education."
"A scholarship allowed me to continue learning, meeting new people, and giving back to my community."
"The scholarship reduced my financial need."
"A scholarship made it possible for me to worry less about tuition and focus more on my studies."
"The scholarship lifted a weight off my back!"
"A scholarship ensured I would complete my college degree."
---