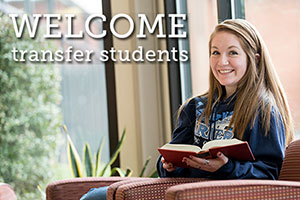 Here at Warner Pacific, you'll find a campus community that will welcome you as one of our own.
Warner Pacific is the top 4-year private college of choice for Portland area transfer students. In fact, 43% of our undergraduates are transfer students, so we must be doing something right!
At Warner Pacific, every transfer student is matched with a faculty member who provides academic advising. Together, you'll establish an academic schedule that fits your goals.
This personalized attention isn't limited to academic advising. With a student to faculty ratio of 11 to 1, you'll form close relationships with caring faculty mentors who will help you find personalized internship and research opportunities.
How your credits will transfer to Warner Pacific
Warner Pacific evaluates credits from regionally accredited colleges and universities for applicability toward Core Studies, major, or elective requirements.
Lower division courses taken at four-year institutions and all courses taken at two-year colleges will be counted only as lower-division credit (100 or 200 level). Upper division courses (300 or 400 level) may be used to satisfy upper division requirements.
Block transfer of credits
Warner Pacific accepts the Associate of Arts Transfer Degree from Oregon community colleges as a fulfillment of the Core Studies Requirements.
Your next steps
Give us a call (503.517.1020 or toll-free 800.804.1510) and schedule a campus visit.
Be sure to complete your transfer application.
Quick links