These are the steps you need to follow: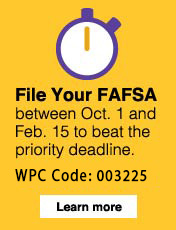 1. Go to fsaid.ed.gov and create your own FSA ID and password.
If you have previously requested a FSA ID you can skip this step.
If you don't remember your FSA ID, you can have it emailed to you.
Dependent Students: One of your parents will need an FSA ID in addition to your own FSA ID.
2. Go to www.fafsa.ed.gov and complete the Free Application for Federal Student Aid (FAFSA).
You will reference your previous year's tax returns to answer several FAFSA questions.
Tip: Print out the FAFSA worksheets on the web to assist you with filling out the electronic form.
Our School Code is 003225.
3.  Go to www.studentloans.gov and complete Entrance Counseling for student loans (if you have never attended WP).
All students should select "I am an undergraduate student." This will take you to the Stafford Direct Loan Subsidized/Unsubsidized entrance counseling.
If you have been notified that you have a Federal Perkins Loan, click here.
4. Go to www.studentloans.gov and complete your Master Promissory Note (MPN) for student loans.
Select loan type: Subsidized/Unsubsidized (PLEASE DO NOT select Graduate PLUS or Parent PLUS).
You will need your FSA ID and two references (with current contact info) to complete the MPN.