Experience Your Future College Life at WPU
Come and put your faith into action at Warner Pacific University. We want to equip each student with the tools to succeed with a Christ-centered, diverse, and community focused education. We can't wait to meet some future change makers!
At Preview Day, you will:
Meet current students and make friends that could last a life time.
Discover some possible academic programs while interacting with WPU faculty.
Tour our campus in the heart of the Mt. Tabor neighborhood of Portland
Learn about the application process and financial aid options.
And of course, win awesome WPU Swag!
When: Friday, November 11, 10:00 am to 2:00 pm
Where: Warner Pacific University – 2219 SE 68th Ave., Portland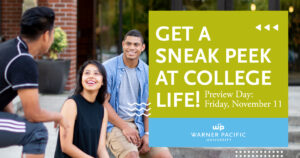 Preview Day Schedule
9:30 to 10:00 AM – Check-in – McGuire Lobby
10:00 to 10:15 AM – Welcome Session: Why College and Why WPU – McGuire Auditorium
10:15 to 10:20 AM – Agenda Walkthrough and Dismissal to Workshops – McGuire Auditorium
10:30 to 11:00 AM – Workshop Session #1*
11:15 to 11:45 AM – Workshop Session #2*
12:00 to 12:30 PM – Workshop Session #3*
12:30 PM – Lunch and Resource Fair – Lower Egtvedt Commons and Dining Hall
                   Swag Giveaways         Scholarship Raffle     Next Steps for Admission
1:30 PM – Closing Session – McGuire Auditorium
2:00 to 4:00 PM – Application and FAFSA/ORSAA Workshop provided by the Enrollment Division
5:00 to 6:00 PM – Tailgate for Women's Basketball Game
6:00 PM – WPU Lady Knights Basketball vs. University of Puget Sound
*See session options and locations, below.

Session #1: 10:30-11:00 a.m.
Transferring Credits to WPU – McGuire 163
Life As A Knight – Egtvedt 203
Mini Class – Social Science – McGuire 161
Campus Tour – Leaving from the Student Life Center
Session #2: 11:15-11:45 a.m.
The Transfer Student Experience – McGuire 163
Paying for College – McGuire 155
Mini Class – Business – McGuire 161
Campus Tour – Leaving from the Student Life Center
Session #3: 12:00-12:30 p.m.
Pre-Nursing Info Session – McGuire 161
Life As A Knight – Egtvedt 203
Paying for College – McGuire 155
Campus Tour – Leaving from the Student Life Center