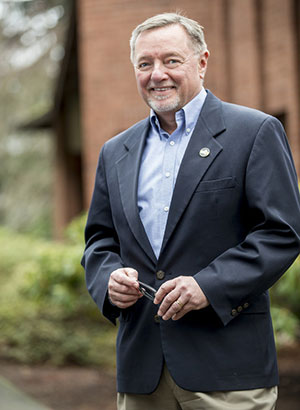 Why go to college?
It seems like everywhere you turn these days there is a different perspective on the value of attending college and earning a degree. These typically range from the idea that a college education should lead directly to a career while others support the notion that college should be a time of self-exploration, less focused on a specific end than on the process.
At Warner Pacific, we try not to draw such black and white distinctions between motives, means and ends. Perhaps the best illustration of this balancing act is to recognize that we are a liberal arts college devoted to equipping our students with the ability and desire to change the world.
That might sound like a big boast, but it is exactly the kind of challenge we believe is necessary in order to put what we are doing in the proper context. For hundreds of years philosophers, historians, theologians and scientists have speculated on why people respond to challenges the way they do. But on one key point everyone seems to be agreed. No great person, organization, nation or civilization has ever achieved greatness without overcoming a very significant challenge. It is in meeting and overcoming the test that preeminence is achieved. Challenge —response. Perhaps Abigail Adams said it best when she sent her 14 year old son off to Russia in 1782 with these instructions:
It is not in the still calm of life, or the repose of a pacific station, that great characters are formed. The habits of a vigorous mind are formed in contending with difficulties. Great necessities call out great virtues. When a mind is raised, and animated by scenes that engage the heart, then those qualities which would otherwise lay dormant, waken to life and form the character of the hero and the statesman.
The academic life of Warner Pacific College, therefore, is a life of the mind, intimately attached to the needs of the world. We are committed to developing skills and knowledge that will inform our convictions—thus we embrace the liberal arts approach to higher education, anchored by our Christ-centered heritage. We view education as a process, that often draws us into the exploration of deep paradoxes. Therefore, whether our students are 18 or 88, enrolled in our traditional undergraduate or Adult Degree programs, deeply devout or still searching, clearly focused or yet imagining possibilities, we are eager to help guide and direct the unfolding future. The question now is, are you ready for the challenge?

Dr. Cole Dawson
Former Dean of the Faculty
(Dr. Dawson stepped down from this position in June 2015 and will return to campus for the Fall 2015 Semester as a Professor of History. Dr. Reginald Nichols was hired as the new Dean and Vice President for Academic Affairs as of June 29, 2015.)