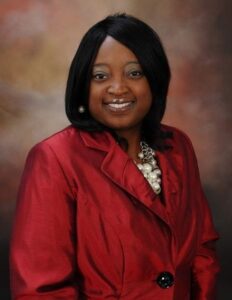 Portland, Ore. – Warner Pacific University (WPU) is pleased to announce the appointment of Dr. Sabrina Ferguson Edwards as its new Vice President of Student Success and Engagement.
An education leader with 23 years' experience at the secondary, post-secondary, and graduate levels of education, Dr. Edwards will serve as the senior administrator for student retention efforts for the University. Specifically, this means leading the development and expansion of student services and programming in service to a deeply held vision that every single student enrolled at WPU should persist strongly through their college journeys, and graduate successfully as an empowered, faith-informed leader.
"I am delighted to welcome Sabrina to our leadership team," said WPU President Brian Johnson. "Her excellent track record of experience – particularly in creating new resources to develop institutions focused on diverse populations – along with her deep and evident heart for supporting communities of faith and purpose, make her the ideal fit for Warner."
Dr. Edwards says she is excited to be joining WPU's Christ-centered mission of educational attainment for all.
"I believe it's imperative to lead, inspire and make a difference in the lives of everyone," said Dr. Edwards. "Warner Pacific University will allow me the opportunity to provide an exceptional student experience and outstanding customer service to all scholars who choose to join us."
Dr. Edwards comes to WPU as director of the I'm A Star Foundation, a "Gear Up" federally funded program focused on providing post-secondary guided pathways support to students and families. Previously she served served at Florida Agricultural Mechanical University as Dean of Undecided Major and Transient Students, and Director for Academic Advising and Undergraduate Student Success. Dr. Edwards also served at Florida State College at Jacksonville and at Edward Waters College overseeing development of Federal TRIO Programs and Training Opportunity Grants. She counts as her most rewarding career experience as having served a business/technology education teacher for grades 9 through 12, helping adult learners return to earn their GEDs through her alma mater, Burke High School in Charleston.
Dr. Edwards earned a Bachelor of Arts Degree in Pre-Law/Political Science from Saint Augustine's University, a Master of Arts in Human Resources/Training Development from Webster University and a Doctorate of Education, Organizational Management with a specialization in Higher Education from Nova Southeastern University. Dr. Edwards earned a Post-Doctorate Credential from Harvard University School of Education and is a Global Certified Career Development Facilitator.
Dr. Edwards enjoys spending time with her son, Larry, III who is a Freshmen Scholar Athlete (Quarterback) attending Albany State University (Albany, Georgia) and Fur Baby Mama Mia.
---