Posted on March 26th, 2021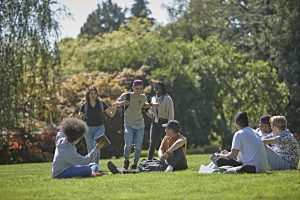 Classroom instruction, residence halls, athletics and activities resume
PORTLAND, Ore. – March 25, 2021–Warner Pacific University (WPU) announced today it plans to reopen its main campus for in-person courses and campus housing for fall 2021 traditional undergraduate enrollment.
"It is our plan to offer an in-person academic program on campus in the fall, while honoring our ongoing efforts to support our community's health and safety," said WPU Vice President Doug Wade.
During the 2020-21 academic year, Warner Pacific successfully and safely offered a combination of online, hybrid and face-to-face course with no known instances of Covid-19 transmission in relation to classroom instruction. The school's Professional & Graduate Studies program (PGS) continues face-to-face and virtual instruction on a campus-by-campus basis following the academic calendars for each program.
"As we plan for the 2021-22 academic year, we are following the guidelines of the Oregon Health Authority," said Wade, noting higher education employees become eligible for vaccines in Oregon next month.
Things are already perking up in the athletic department. "All 14 of WPU's spring sports are playing full schedules," says Abby Wilson, the sports information director for the university. It's a sign that students want the opportunities of the traditional college experience. "The university had zero cases among student athletes," she said.
Registration begins April 5 for current students and May 21 for new students enrolling for the traditional fall semester. Residential dormitory housing is offering single occupancy reservations. Professional and graduate courses in the PGS program are open for enrollment with a year-round schedule specific to each program. Full in-person instructions is planned for PGS courses beginning September 1 or later.
---