Posted on September 26th, 2023 in News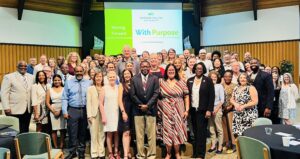 The fall 2023 semester commenced with three events that marked the beginning of a new academic year, bringing together our valued students, dedicated staff, and esteemed faculty. 
Employee Kickoff
Our first event was the WPU Employee Kickoff, a gathering of our staff and faculty, where we collectively charted our course for the upcoming year. We reaffirmed our unwavering commitment to guiding our students toward a future filled with purpose and promise.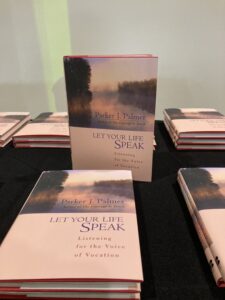 Simultaneously, we embarked on an institution-wide reading journey, presenting each employee with the insightful book "Let Your Life Speak: Listening for the Voice of Vocation" by Parker J. Palmer. Over the course of the next few months, we will delve into the book's six chapters, engaging in thought-provoking discussions during our upcoming employee lunches, where we will focus on two chapters at each gathering. 
Knights Orientation
The next event on our calendar was Knights Orientation, specially designed for our incoming first-year students and transfer students. Orchestrated and facilitated by the Division of Student Success and Engagement (SSE), Knights Orientation serves as a vital platform for students to acquaint themselves with our campus, establish their campus routines, and foster connections with their peers.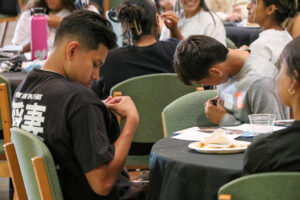 Students convened in McGuire to partake in the meaningful "Knight's Pledge" ceremony, marking the significant moment when they officially became Warner Pacific University students.
The pledge is reprinted here as follows:
"Today I make a pledge to engage in my experience at Warner Pacific University with my whole heart. 
I pledge to apply myself to my intellectual pursuits and use the full powers of my mind.
I pledge to discover and cultivate my unique talents and abilities in a way that fulfills my soul.
I pledge to take care of my body, and to protect my physical and mental wellbeing, and to ask for help if I need it. 
I pledge to cultivate relationships with my peers, with my professors and to actively create connections. 
I pledge to work to be a person of accountability and integrity, to go to class, complete my work, and to remain focused on completing what I've started by earning my degree. 
I pledge to treat everyone at WPU with respect, and to always remember I represent Warner Pacific, for all who have come before me, and for all who will come after me.
Most of all I pledge to use my education to cultivate my God-given purpose, and to seek to use my education to care for all people of the world, especially those less fortunate. 
I pledge these things as a proud and enduring Knight of Warner Pacific University."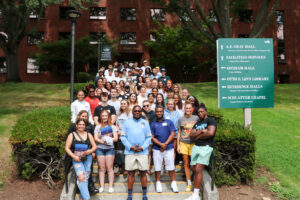 Upon reciting the pledge, students affix the WPU pin, symbolizing their official enrollment as students at Warner Pacific University.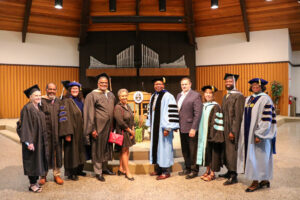 Convocation
The last, yet arguably the most significant event was our annual Convocation, marking the commencement of our 87th academic year. The program began with an invocation led by Pastor Lorenzo Peterson, followed by a warm welcome from Dr. Cecelia Monto, Vice President of Academic Affairs. Greetings were extended by JuJu Williams, President of the Student Government, and words of welcome came from our staff representative, Dean Ober '13, as well as our esteemed faculty representative, Dr. Cassie Trentaz, Professor of Theology, Ethics, and Church History/Faculty Chair. Subsequently, Mike Moreland, Chair of the Board of Trustees, offered a few remarks and introduced President Dr. Brian Johnson for his convocation address. 
Dr. Johnson's address was inspired by the scripture passage from Exodus 3:1-5, in which he concentrated on the question, "Why the Bush is Not Burnt?" He articulated, "Throughout our lives, it is imperative that we reflect upon the significance of the fire, the circumstances in which God has situated us, and the purpose it serves." Dr. Johnson further emphasized, "We firmly hold that each one of us occupies a unique place with a designated purpose, and it is our responsibility to discern and fulfill that purpose."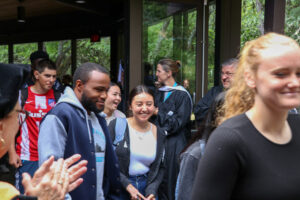 The event drew to a close with a rendition of our Alma Mater song, "Hail Pacific," guided by Dean Ober '13, followed by the benediction delivered by Dr. Gladys Jadagu. As the ceremony concluded, the faculty exited McGuire Auditorium and assembled to create a celebratory tunnel, offering enthusiastic cheers of encouragement to the departing students. 
We feel truly blessed by all that God has bestowed upon us and are eager to discover what the upcoming academic year holds for both our students and employees. 
---