Posted on September 26th, 2023 in News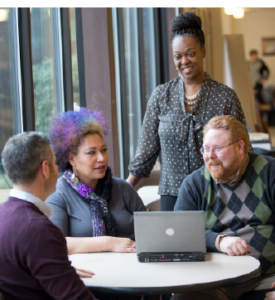 Are you currently employed in the healthcare or human resources field with an associate degree? Have you been eager to complete your degree but unsure of how to begin? The perfect opportunity awaits you at Warner Pacific University! 
At WPU, we provide an "anytime start" option for our Professional and Graduate Studies (PGS) students. This means you can enroll in a program at a time that suits your schedule best! 
Bachelor of Healthcare Administration: 
Our fast-track Bachelor of Healthcare Administration degree addresses the rising healthcare needs driven by an aging population. This program, designed for working adults with prior college experience, emphasizes ethical business management, cultural proficiency, and diverse leadership. It equips you with extensive industry insight and essential skills in management, problem-solving, and communication to positively impact your community. 
For healthcare professionals seeking career advancement or those looking to switch careers, we provide the flexibility of pursuing this accelerated degree either online or in-person with just one weekly evening class. 
During the course of this program, students: 
develop decision-making and leadership skills while learning about the health care industry's complex structure and processes, including treatment models, insurance issues, laws, and finances;

 

learn to become transformational leaders by strengthening their analytical and strategic-thinking skills, promoting innovation, and becoming familiar with achievement and community orientation concepts;

 

discover ways they can enact organizational change through collaboration, information technology management, performance measurement, process management, organizational design, and project management;

 

cultivate interpersonal, relationship building, and human resources skills for leading teams and developing talent;

 

examine the social aspect of health care quality and access, including the well-being of a population and community; and

 

learn about the structure of the health care system and managed care organizations.

 
"Our program's content is meticulously curated to remain current and relevant, ensuring our students are well-prepared for their career pursuits. Given our instructor's active involvement in the field, we are uniquely positioned to offer invaluable insights, assistance with job placement, and serve as references for our graduates. The healthcare sector offers substantial rewards as it entails serving individuals and communities." –Dr. Jorge Melendez, Healthcare Administration Program Lead & Adjunct Professor
Find out more about the program curriculum here. Please reach out to Dr. Jorge Melendez (jmelendez@warnerpacific.edu) or Sue Conyers (sconyers@warnerpacific.edu) with questions.  
Bachelor of Arts in Human Resource Management: 
Students enrolled in Human Resource Management will be well-prepared for a range of fulfilling careers, such as Human Resource Specialist, Human Resource Manager, Administrative Services Manager, Labor Relations Specialist, Compensation and Benefits Manager, and Training and Development Manager, among other possibilities. Additionally, there will be a strong focus on fostering an understanding of multicultural perspectives and ethics within a global context. As a vital component of this degree, students will also work towards obtaining a relevant HR certification as part of their final capstone project. 
Upon successful completion of the HR Management major, graduates will be able to demonstrate: 
Fundamental knowledge of the core functions in human resource field which includes staffing, employee benefits, training & development, and technology. Students will be prepared to enter a successful career in the human resource field.

 

Integrate an understanding of factors that impact human resource decision-making including understanding the theoretical framework of leadership, HR management principles and how to apply the concepts in the workplace.

 

Proficiency of the basic concepts of professional demeanor, problem-solving leadership, human behavior, communication, administration, and technology to engage ethically and with integrity within a constantly changing world.

 

Proficiency in the broad business perspective competencies of strategic and critical thinking, industry and sector perspectives, management, legal and regulatory environment, marketing and leveraging technology business.

 

Fundamental knowledge and integration of cultural competence of diverse world issues, developing the students' ability to network and collaborate more effectively and increasing the holistic growth of the students' multicultural and communication skills; this may include professional growth to support current and future workforce challenges.

 
"WPU takes a holistic approach to serving students. In the Portland metro area, there are only two colleges that offer a degree in HR Management. Careers in human resources will continue to flourish and grow. So, if a student wants to pursue a career in human resources, WPU is a great place to do just that." –Debra Muchow, Human Resource Management Program Lead & Adjunct Professor
Find out more about the program curriculum here. Please reach out to Debra Muchow (dmuchow@warnerpacific.edu) with questions.  
---