WPC Student's Crocheting Benefits Local Charity, Shepherd's Door
December 16, 2016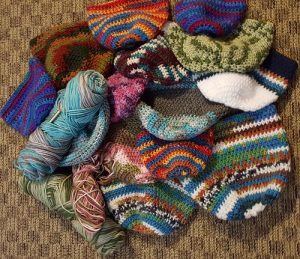 With 14 hand-crocheted winter hats completed, Warner Pacific student Krystle Hilman '17 is well on her way to fulfilling her goal of creating 20 hats by Christmas for Portland-based charity, Shepherd's Door.
"I learned to crochet just this past October (2016) when I realized making hats would be an economic way to give gifts to my 12 nieces and nephews," recalls Krystle, an English major. "I didn't know I'd catch the crocheting bug! To date I've completed more than 30 hats that I plan to give as gifts, donate, or sell." She's also crafted a few warm and cozy infinity scarves.
After buy several skeins of yarn and crocheting hooks, she found a hat pattern and created her first foundation chain. In just a few weeks, she had nine hats completed and realized her gift hats would be finished well before Thanksgiving. "I needed another reason to keep crocheting." That's when she contacted the Portland Rescue Mission about donating hats for children. Krystle believes kids living in vulnerable conditions are the "first priority."
Her creations will be worn by the young children of women participating in the addiction recovery program through the Rescue Mission Shepherd's Door. This program provides sanctuary and security for the women dealing with and recovering from addiction. They learn healthy lifestyle skills, how to restore relationships, and ways to be free from previous life choices.
The movement of creating a single, chain, and slip stitches helps Krystle stay calm and focused during class. She lives with anxiety and restlessness. "In my psychology class, I learned that movement can help you learn better because your brain is more engaged."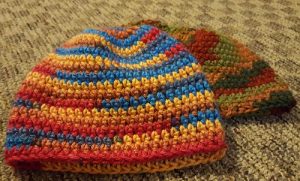 For this Warner Pacific senior, crocheting is not just a solution, it's a blessing.
KC