WPC featured in New Book Exploring Diversity
September 29, 2017
The book, "Diversity Matters: Race, Ethnicity, and the future of Christian Higher Education," was published on August 8, 2017. It explores the unique need for diversity in Christian universities and colleges. The book begins with various universities and colleges that have made diversity a goal and priority.
President Coo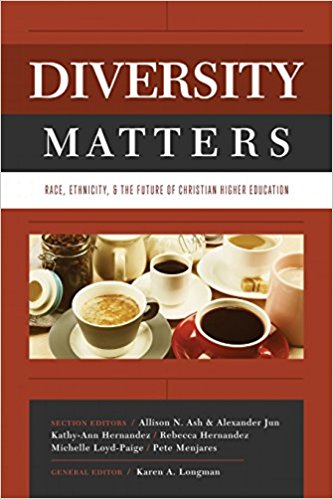 k writes about her experience prior and during her time as president of Warner Pacific College. She saw a lack of effort in prioritizing diversity, so she committed to the challenge of shifting the paradigm. She stated,
"I shared with him [Jay Barber, former President of Warner Pacific College] that I felt we were misplacing our mission emphasis and that we needed to go all-in with our urban identity… God loves the city, and he loves the students we serve. This is his work. If we are available and willing to take the risks as he beckons, I believe the days ahead for Warner Pacific and for Christian colleges and universities   across the world are very bright."  (pp. 65 & 76)
In her chapter, President Cook spoke of the details her journey, which consisted of reaching out to organizations in the community for support, to cutting language barriers between students and Warner Pacific. Her intention was to provide as much detail as possible to help other universities and colleges who are striving for diversity as well. During her time at Warner Pacific, President Cook has managed to achieve an astonishing statistic: "…as of Fall 2016, 57 percent of the students at Warner Pacific College are students of color. This is more than a 400 percent increase from when I arrived in 2005!" (p. 71). Since the writing of the book, diversity has continued to grow. As of Fall 2017, 64 percent of the students attending Warner Pacific come from diverse racial and ethnic backgrounds.
The book is published by Abilene Christian University Press, a publishing company that focuses on twelve genres, one being Christian higher education. "Diversity Matters" is available online on Amazon, Barnes and Nobles, or Powell's Bookstore.
The book features many contributors, with Dr. Karen A. Longman serving as the general editor. Dr. Karen A. Longman is a professor and program director at Azusa Pacific University in Azusa, California. She teaches in the school of behavioral and applied sciences in the higher education department, where she also directs the Ph.D. Higher Education program. Dr. Longman, also an author and editor, has contributed to over 20 publications and edits the journal: Christian Higher Education. She is also a Senior Fellow with the Council of Christian Colleges and Universities.
-Cristina Lopez Alonso '19