WP Names New Director of Library Services
June 29, 2017
Warner Pacific College welcomes Dr. Lishi Kwasitsu as the Director of Library Services!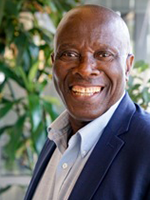 Dr. Kwasitsu comes to us from the Intel Corporation in Portland, where he has worked as a Research Librarian/Information Analyst for the last 15 years. As a bibliometrician, Dr. Kwasitsu is interested in the quantitative analysis of scholarly communications as well as the information-seeking behavior of students and professionals. Other areas of focus include early newspapers, colonial journals/magazines, and library closures.
Dr. Kwasitsu has served as the Head of Technical Services for the University of Maiduguri Library, Nigeria; Foundation Secretary for the University's Senate Library Committee and the Cataloger/Space Planner for the University of Calabar Library, Nigeria. Dr. Kwasitsu taught Librarianship at the University of the West Indies, Jamaica and he was a Research Fellow at the Center for African Studies, University of Cape Town, South Africa. He also taught Librarianship at the University of Ghana before joining the University of Alberta, Canada as a Prospect Researcher. Prior to moving to the United States, he was the Research Services Supervisor at EPCOR, Inc., Canada's first municipally owned electric utility.
As the Director of Library Services, Dr. Kwasitsu will provide leadership and direction to the College's Otto F. Linn Library. He holds a Ph.D. in Librarianship from Monash University, Australia; a M.A. in Librarianship from Victoria University of Wellington, New Zealand; and a B.A. in English from the University of Ghana.
Dr. Kwasitsu's research and publications include: