Warner Pacific Welcomes 10th Cadre of Act Six Scholars
March 12, 2019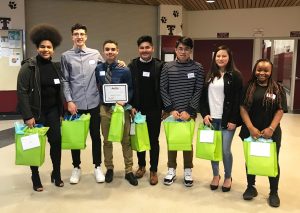 Warner Pacific is honored to welcome seven emerging leaders to Cadre 10 of the University's Act Six Leadership & Scholarship Initiative. This exciting new cadre of scholars was selected through a rigorous three-month competition among more than 1,300 applicants.
These diverse student leaders were chosen for their commitment to serving on campus and at home, passion for learning, eagerness to foster intercultural relationships, and willingness to step out of their comfort zones.
Warner Pacific is delighted to announce Act Six Cadre 10:
DJ Hernandez, Parkrose High School
Loy Msafiri, Lincoln High School
Jaquelyn Reyes, Gresham High School
Marcos Romero Turner, Mt. Scott Center for Learning
Aleathea St. Hialire, David Douglas High School
Juan Carlos Tellez Flores, De La Salle North Catholic High School
Thien Tu, Reynolds High School
Warner Pacific provides a full-tuition, full-need scholarship for each scholar selected. These scholarship funds are raised entirely by the University through grant awards, private contributions, and events like the President's Scholarship Luncheon.
Act Six announced that 138 emerging urban and community leaders across Tacoma-Seattle, Portland, Spokane, Yakima Valley, Chicago, Indianapolis, and Minneapolis-St. Paul, have earned Act Six scholarships this year.