Warner Pacific University Signs Washington State XC Champion Amelia Pullen
April 10, 2019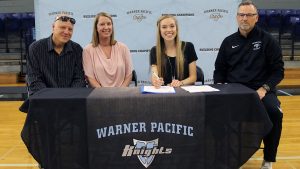 Amelia Pullen of Washougal High School made Warner Pacific University her college of choice last Friday by signing a national letter of intent with Warner Pacific University. Pullen won the Washington State 2A Girls Cross Country State Championships 5000m race in a personal best time of 18:04 last November, beating the nearest competitor by 25 seconds in the process. She has received a number of awards including being named the Girls All-Region Runner of the Year by the Columbian Newspaper in Vancouver and the WIAA Athlete of the Week in week 9 last fall. Pullen has also had great success on the track with a personal best of 11:01 in the 3200m and a third-place finish last track season at the Washington State Championships last spring. Pullen is also a very accomplished student with a GPA of 4.0 and has been taking a challenging college curriculum in the Running Start program at Clark College in Vancouver, WA.
"We really couldn't ask for a better all-around person to sign as one of the cornerstone student-athletes for our revamped cross country and track program than Amelia Pullen," stated Warner Pacific's Director of Cross Country and Track & Field Randy Dalzell. "She has been a pleasure to recruit and get to know and we are thrilled to add her to our program! What really stood out to me about Amelia was not just her running and great academic credentials, but also her commitment, focus, and hard-working approach to everything she does. She is very goal oriented, asked a lot of good questions in our process, and really showed that she is going to be a great student as well as committed team member."
Pullen, who is planning to major in pre-veterinary biology and plans to go on to veterinary medical school after finishing her undergraduate preparation had this to say about her decision. "I am excited to be joining the team at WPU and look forward to working with a passionate coach and team. I am looking forward to seeing where it takes me in my running career. I am beyond grateful to be joining this team along with my dog Cienna – it already feels like home and the team and school already make me feel like part of a family."
Dalzell was hired last summer to start a rebuilding process for the cross country and track programs at the university, which has recently added a number of key new academic programs including nursing and cybersecurity to their other undergraduate array of degree programs.
"We are getting some good interest from some very fine student-athletes with the addition of these academic programs coupled with our renewed efforts to recruit and build a high-quality track and field program. It is very exciting to see Amelia and others discover the great opportunities that are here in Portland at Warner Pacific University," Dalzell added.
"I am thrilled to have talented and superb student-athletes like Amelia wear Warner Pacific Columbia blue!" said WPU Athletic Director Mike Wilson. "She is certainly a top-tier student-athlete that could sign at any level, so her decision to attend Warner Pacific sends a strong message about the type of student-athlete we are now bringing to the university. Students like Amelia illustrate the fact that the Cascade Collegiate Conference will continue to be one of the toughest and talented conferences in the nation."