Warner Pacific Shifts Emphasis to City Builder Program
July 28, 2020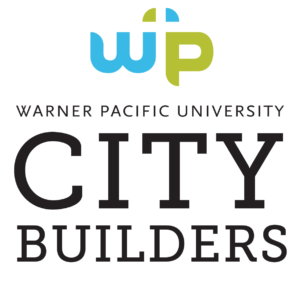 Warner Pacific University is a Christ-centered, urban, liberal arts university dedicated to providing students from diverse backgrounds an education that prepares them to engage actively in a constantly changing world. It is because of this mission that the University is intentionally focused on providing scholarship opportunities to low-income students, first-generation students, immigrant students, and students of color. We remain more committed today than ever to investing in empowering students to follow their dreams and impact their communities. In order to expand this service, Warner Pacific (WPU) plans to adjust current scholarship initiatives by ending recruitment of new Act Six cadres in order to expand our investment in our City Builders program.
In 2009, WPU began partnering with the Portland Leadership Foundation (now The Contingent) to launch the Act Six program. Act Six is a full tuition, full need scholarship awarded to a small cadre of scholars who participate in a months-long precollege training program. Act Six provides leadership training for emerging urban and community leaders who want to use their college education to make a difference on campus and in their communities at home. The inception of the program at Warner Pacific coincided with the recognition that the institution's mission, enrollment and programs needed to better reflect and serve students in our immediate neighborhoods and in the city of Portland.
The Act Six program became a key impetus in the transformation of Warner Pacific University. The partnership with PLF created clarity around the systemic and institutional frames that perpetuated racist and inequitable realities for our students, and led to significant reflection and changes in the ethos, systems and culture of the University. We will forever be grateful to the Portland Leadership Foundation/The Contingent for their engagement and investment of intellectual capital and development at Warner Pacific. Many changes have taken place over the past dozen years, and the institution is still on an active journey to be a university that provides inclusive, equitable and accessible education to all students.
The structure, training and practices of the Act Six program have informed significant changes to structures and systems at Warner Pacific. The program's focus on a cadre as a way to provide relational peer support and community, intentionality around validating students voices and strengths, and providing accountability and sharing love and care have all informed WPU's First Year and Transfer Learning Communities as well as the culture across the university.
Over the last decade, our Act Six scholars and alumni have been leaders on the WPU campus and beyond. We are thrilled to see them serving and leading in public office, nonprofit leadership, and in many corporations and organizations across the city. They are fully applying their education and leadership gifts in wonderful ways. We know they will continue to share their brilliance in the decades ahead, and we are honored to count them as Warner Pacific Alumni.
In 2013, when PLF initiated the Act Six Academy pilot, Warner Pacific jumped in to test this model. After two years of trial the pilot was discontinued by PLF, but Warner Pacific continued to embrace the approach and renamed the program to "City Builders" (based on Nehemiah, Chapters 3 and 4). City Builders is designed for students with passion and a vision to transform their communities. City Builder awards are partial scholarships and the program provides students with a pre-college training program that prepares them to navigate transition to college, success in the classroom, and engagement in leadership both on campus and in their communities, while also providing a cadre of support. Over time, City Builders have achieved higher retention and graduation rates than the general student population. This program has been so successful at Warner Pacific that the University has decided to expand this effort.
In light of an analysis of these programs and the demographic shifts in Warner Pacific's student population to become a minority serving institution (from 15% students of color in 2008 to more than 60% in 2019), the University has decided to end recruitment of new Act Six cadres and apply our efforts to enhance and grow the City Builders program to serve more students by equipping them for leadership now and in the future. Current Act Six Scholars will continue with the same scholarship and institutional support, with no changes based on their scholarship agreement.
Warner Pacific University is the first and only 4-year Hispanic Serving Institution in the state of Oregon. Additionally, in the fall of 2019, WPU was recognized by U.S. News and World Report among colleges in West in four categories: Best Regional College, Ethnically Diverse College, Best Value College and Social Mobility College. The Social Mobility category recognizes that economically disadvantaged students are less likely than others to finish college, even when controlling for other characteristics. But some colleges are more successful than others at advancing social mobility by enrolling and graduating large proportions of disadvantaged students awarded with Pell Grants. Warner Pacific is among the institutions that is particularly focused on the success of ethnically diverse and economically disadvantaged students.