Dr. Trentaz Nominated and Appointed to a Committee Member Position for the American Academy of Religion
October 23, 2017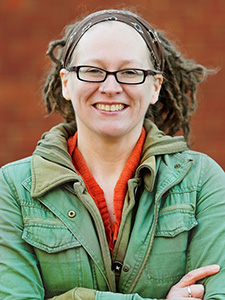 Dr. Cassie Trentaz has been nominated and appointed to a position with the American Academy of Religion in the Status of Women in the Profession Committee. The position is a four year, non-renewable term, that would begin January 2018 and end December 2021. The Status of Women in the Profession Committee, a group of six, works toward encouraging and providing freedom to women in the Academy by recommending policies, practices, and developing programs for women in the profession to increase their eminence.
Dr. Trentaz is an Associate Professor of Theology, Ethics and Church History and Department Chair of Religion and Christian Ministries at Warner Pacific. In 2001, she received a Bachelor's of Arts in Religious Studies, from Anderson University, in the fields Bible/Religion and Christian Ministries, and a minor in Philosophy. From Anderson School of Theology, she earned a Masters of Theological Studies in 2004. Dr. Trentaz also earned a Ph.D. in 2010 from Chicago Theological Seminary in Theology, Ethics, and the Human Sciences. Trentaz is also a member of various professional groups, such as Interfaith Council of Greater Portland, Wesleyan Theological Society, American Academy of Religion, and Church of God Ministerial General Assembly. She is also an institutional partner for Interfaith Youth Core. Dr. Trentaz has also published various papers and a book, "Theology in the Age of Global AIDS & HIV: Complicity and Possibility."
Dr. Trentaz shared gratitude for the nomination and appointment, "Women help to make the world go. In many religious communities, women are the backbone of those communities. And yet, they have not always been present or visible in leadership roles in some faith communities or in the academy. As a parent, partner, activist, and academic, I'm grateful and humbled to have been invited to serve on this committee committed to helping women (and men) to not only have presence and 'balance' as we have appropriately talked about recently, but begin to flourish in work and life in contexts across the academy and world."
The American Academy of Religion (AAR) strives to bring reflection and knowledge about religion because it is embedded in our surroundings through politics, education, communities, and more. AAR, consist of about 9,000 members who are academic researchers and educators. All of whom are located in various parts of the world at seminaries, universities, colleges and other institutes.
-Cristina Lopez Alonso '19