sourceU Article Round-Up
January 25, 2019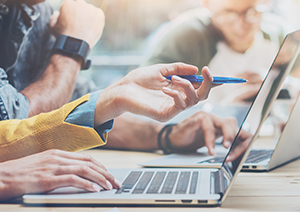 Aimed at bringing more diversity to the tech industry Warner Pacific and Epicodus join forces. Celebrating this launch several publications provided incredible write-ups. Below are snippets of the pieces with links to the full article.
Portland Business Journal: Warner Pacific University is teaming with downtown code school Epicodus on a program to offer students another path to a two-year or four-year degree.
The new program is called sourceU and will be under the auspices of Warner Pacific, a liberal arts college located in Southeast Portland. Epicodus will provide the technical
course work. The objective, in part, is to help meet the workforce demands of the region's growing software industry…Continue Reading
Business Tribune: Warner Pacific University, a 600-student university in Montavilla, on Wednesday launched a new tech school called sourceU. It will offer two degrees that mix liberal arts teaching with coding and cybersecurity training from Epicodus and Ripera… Continue Reading
The two- and four-year courses open in August 2019 and "sticker price" tuition will be approximately $37,000 and $75,000 respectively…
Oregon Business: It is a perennial issue facing higher ed and the business community: how to diversify the mostly white male tech workforce.
A group of business folks and education professionals have taken on the challenge by launching a tech school in downtown Portland in partnership with one of the most racially diverse higher education institutions in Oregon, Warner Pacific University… Continue Reading
Cyber Oregon: Moving at what amounts to lightspeed for an educational institution, Warner Pacific University on Wednesday announced the launch of sourceU, a new school to be based in Portland that will turn much of what we know about cybersecurity and technical education on its head… Continue Reading
The Oregonian: Christian university Warner Pacific and code school Epicodus plan to establish a cybersecurity degree program in downtown Portland, accommodating up to 110 students.
The school, to be called sourceU, will confer associate's and bachelor's degrees on enrollees who begin in Epicodus' existing certificate program. In addition to cybersecurity, sourceU will offer degrees in web and mobile development and digital product design… Continue Reading
Church of God News: Warner Pacific University is excited to announce the launch of sourceU, a school of innovation and technology that will empower students with the right skills, education, and support to become leaders in tomorrow's tech industry. In partnership with Portland, Oregon's top code school, Epicodus, and the innovative team of cybersecurity professionals and educators at Riperia, sourceU combines the industry-focused skills that a code school brings with the supporting resources and expertise of a well-rounded Christian education from Warner Pacific University… Continue Reading