Proclaiming the Jesus way together!
September 12, 2019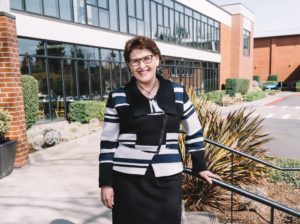 It was a misty morning on Monday, August 26th when students, staff, faculty, board members and friends gathered to commemorate the official beginning of Warner Pacific University's 83rd academic year.
Dr. Andrea Cook, President of Warner Pacific University reminded the community of the University's journey over the past 11 years, noting the significant paradigm shift that paved the way for the future.
In 2005, 11.4% of Warner Pacific's student body identified as students of color.
Today, that number is more than 60%.
Dan Ryan, the former Executive Director of Portland's most forward-thinking K-12 organization, All Hands Raised, says this:
"As such, Warner Pacific is also the most relevant institution in our region because they are doing what others only talk about."
Dr. Cook reflected on Luke 4:16-21 and focused on the WHY behind the mission of Warner Pacific.
"As followers of Jesus, we are the group of people who measure our personal and organizational mission according to the mission of Jesus, which is what we find in Luke 4. 
This passage is THE text that grounds Warner Pacific's commitment as a part of the Church of God, which is a Movement of people who gather together under the banner that Jesus came to disrupt the status quo.
When we accept that….truly believe it…. and live by it…. it begins to adjust the way we think about ourselves and how we think about others"
As student's settle into their classroom seats, the Warner Pacific community looks forward with anticipation and expectancy of what God will do this academic year as students learn and grow in this relational community of WPU.
In Dr. Cooks words, "Let us proclaim the Jesus way together this year!"
Listen to Dr. Cook herself via audio and experience her inspiring words: LISTEN HERE