Pre-Election Event: Politics, Portland, and You (September 27)
September 6, 2016
Warner Pacific College invites you to our Pre-Election Event 2016 on National Voter Registration Day.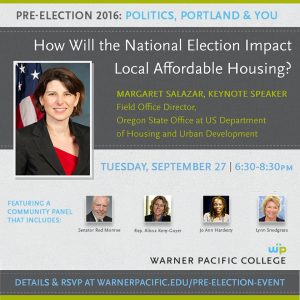 When: Tuesday, September 27, from 6:30 – 8:30pm
Where: Warner Pacific College, McGuire Auditorium, 2219 SE 68th Ave., Portland (cross street is SE Division); Free parking
RSVP: Sign up with our online registration form or Facebook – space is limited; No cost
Is there a connection between the national election and housing in your neighborhood?
How can you get involved and make change in your community?
Learn from local leaders about how to get involved though formal politics and community organizations.
Keynote speaker Margaret Salazar, Field Office Director, Oregon State Office at US Department of Housing and Urban Development, will discuss the National Impact on Local Housing.
Panelists WPC Alum Senator Rod Monroe '64, Portland NAACP President Jo Ann Hardesty, Representative Alissa Keny – Guyer, and Lynn Snodgrass, CEO of the Gresham Area Chamber of Commerce will share their stories and answer your questions.
Local agencies will be on site to help you get involved: NAYA, Unite Oregon, Causa Oregon, Latino Network, Hacienda CDC, Transition Projects, Yes for Affordable Homes, Bus Project
The event is open to the public, so please join us and invite your friends!
Questions: Please contact Serena Cline scline@warnerpacific.edu or 503.517.1026