Congratulations to our outstanding alumni
February 13, 2016
During the 2016 Warner Pacific College Homecoming Weekend (February 11-13), local Alums were honored for their professional and community achievements.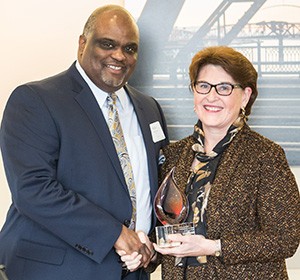 Distinguished Alumni Award, Adult Degree Program (ADP) – Mike Moreland, Sr. '12, Chief Human Resources Officer for Providence Health & Services, Oregon and Alaska Region
Mike earned his Master's degree in Management and Organizational Leadership through Warner Pacific's Adult Degree Program in 2012. "I was already a Human Resources professional when I decided to go back and earn my master's degree," remembers Mike. "I considered pursuing an MBA at another institution but the Master's in Management and Organizational Leadership curriculum was a better match for my personal style and professional needs."
The intentional diversity of the ADP cohorts was something Mike valued. "In forming cohorts, the College really tried to mix us up in a way that showcased our diversity of skills, experience, gender, and everything in between. This reinforced the idea that diversity does not happen without intentionality; working in HR, that concept is key."
As a proud graduate of Warner Pacific's Adult Degree Program, Mike actively recruits his colleagues and staff members to attend WPC's ADP program. Mike's son and nephew recently graduated from Warner Pacific, and he currently has a niece attending WPC's traditional program. Mike considers his family a "Warner Family."
Distinguished Alumni Award, Professional/Academic Achievement – Jennifer Davis '94, Vice President of Marketing and Product Strategy at Planar
A liberal arts education laid the foundation for a strategic thinking in the high tech industry. "I love seeing a well-executed strategy deliver results. It excites me to see team members taking initiative, growing into new roles, and being successful," remarks Jennifer.
Jennifer earned a BS in Business Administration and History from Warner Pacific College. She reflects, "My years at Warner Pacific resulted in new opportunities and broadening horizons. An internship at a software company translated into my first career job and set me on the path to a career in high-technology. Encouragement from my math professor gave me confidence to handle the most technically-challenging work, even in my marketing roles."
She encourages current students to take advantage of the internships offered through the College because you never know what doors they will open.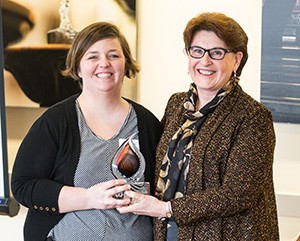 Distinguished Alumni Award, Recent Alum – Heather Phillips '06, Executive Director of City Crossroads, a ministry of the Church of God in San Francisco's South of Market Area neighborhood
Heather earned a B.S. in Social Work, Religion and Christian Ministries, and Human Development from Warner Pacific. She describes the work of City Crossroads to be both simple and profound. They provide for the physical, social, and spiritual needs of children, youth, and their families. Heather explains "that's really just a fancy way to say we open our doors five nights a week to kids with nowhere else to go. We feed them dinner, help with homework, play board games, and share the joys and sorrows of raising exceptional young people amidst extraordinarily hard circumstances. The acts themselves are simple, and yet the profound nature of what we do is not lost in the day-to-day detail."
"Today, when I think about finding myself at the helm of this ministry, I am so incredibly thankful for the way Warner Pacific prepared me to view life not as a set of simple black and white circumstances or problems to be fixed, but to see the world as an interdependent community; messy and complicated but full of beauty, where we all have a place."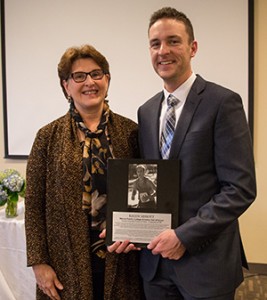 Knights Hall of Honor 2016 – Kalen Abbott '06, Emergency Medicine Physician at University Medical Center Phoenix
He was one of the early stars for the relaunched cross country and track & field programs at Warner Pacific. A competitor from 2002-06, Abbott anchored the Knight cross country team and achieved NAIA All-American Status after placing 22nd at the national meet in 2004. In track & field, he capped his senior season as the Cascade Conference Champion in both the 5000 meter and 10,000 meter races.
An outstanding student, Kalen was named a NAIA Scholar Athlete in 2005 and 2006. He used his academic excellence to move on to medical school at University of Colorado Denver. His residency commenced at Maricopa Medical Center in Phoenix, Arizona, and his training took him to South Africa where he worked in tuberculosis prevention and at a number of very busy trauma centers. His work is recognized by the American College of Emergency Physicians quarterly newsletter.