Opening of the 80th Academic Year: Convocation
August 25, 2016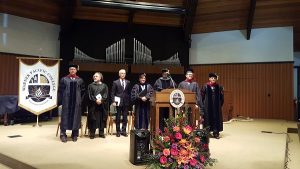 With the entire Warner Pacific community gathered together on Tuesday, August 23, 2016, we officially opened the 80th Academic Year of the College with the pomp and circumstance of Convocation.
All of our students were welcomed back to campus with encouraging words affirming that they are indeed in the right place at the right time to develop the knowledge and character to flourish for a lifetime. We introduced our 175 new students (58% are first-year students, 30% transfers, and 2% returning Knights). Dale Seipp, Jr., Vice President for Enrollment and Marketing asked us all to "challenge them, support their efforts, and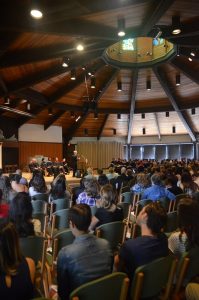 encourage them as we work and grow together this coming year."
Everyone was urged by Grace Kim, Director of Events and External Relations, to "live in humble expectancy because every day that we awake with breath in our lungs is a gift." She explained in her words of greeting that "expectancy continue to hope and to live in expectancy means to understand that entering into the unknown is okay."
"As professors, we celebrate when that passion on the court, that expression in your performance, that energy in your work, that devotion in your worship also translates to the classroom," related Dr. Luke Goble, Chair of the Department of Humanities.  "We are here to walk with you but also to encourage you to press on."
Through a lively, and at time witty, summation of the 300 years between Joseph and Moses, our Convocation keynote speaker Dr. William Robinson, Former Interim President for Council for Christian Colleges and Universities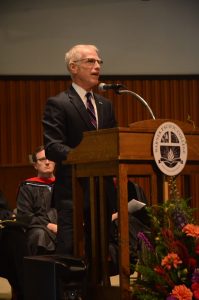 and President Emeritus of Whitworth University, reminded us that God can use the ordinary stuff in our hands, much like Moses's staff, to set people free from oppression.
Dr. Robinson asks: can God use the cup of coffee and smart phone that are in your hand right now for His purpose?
Our new class of Knights
175 new students
118 first year students (freshmen)
2nd largest first year class in the College's history
60% are women
30% are transfer students
70% are from Oregon

Representing 14 states and 5 foreign countries

36% identify as Hispanic
30% Caucasian
23% Multi-Cultural
6% Asian/Pacific Islander
5% African American
Age range: 17-46