McGuire on Fire… Again! (Sunday, April 3)
March 17, 2016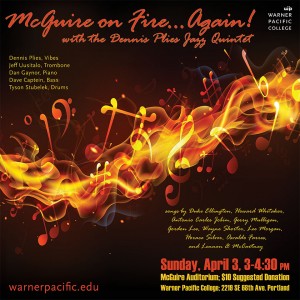 Five local jazz artists come together to form the Dennis Plies Jazz Quintet. We are pleased to host the Quintet's Sunday, April 3, concert: McGuire on Fire…Again!
When: Sunday, April 3, 3:00 – 4:30 pm
Where: Warner Pacific College's McGuire Auditorium (2219 SE 68th Ave., Portland)
Cost: $10 donation at the door
What: Jazz means unpredictable improvisation and group interplay. You will not be disappointed in the jazz stylings and performance at McGuire on Fire, featuring music of Duke Ellington, Howard Whitaker, Antonio Carlos Jobim, Gerry Mulligan, Gordon Lee, Wayne Shorter, Lee Morgan, Horace Silver, Osvaldo Farres, and Lennon & McCartney.
Who: The Quintet is made up of four local jazz musicians:
• Dennis Plies, Marimba & Vibes (WPC music professor)
• Jeff Uusitalo, Trombone
• Dan Gaynor, Piano
• Dave Captein, Bass
• Tyson Stubelek, Drums
Dennis Plies has been at home on the marimba playing classical and gospel music since age six, and twenty-two years later he added the jazz dimension, including its central role–improvisation. The vibes, played very similarly to the marimba, has become his jazz voice. He has directed the Jazz Band at Warner Pacific College since 1981 and has played vibes in the jazz trio, Mirage, since 1999. His first jazz recording in 1986 features his vibes work with the Ron Steen Trio. In 2006 he recorded an album called Minor Inconvenience with sax player Howard Whitaker plus a rhythm section.
Jeff Uusitalo hit the scene at age 20, when he toured with the Stan Kenton Orchestra, soloing on the group's last two albums, Journey to Capricon and Live in Europe. Since then, Jeff has been in demand as a soloist, guest artist, clinician, and adjudicator at jazz festivals throughout the United States and Canada. With over 45 albums and multiple television broadcasts to his credit, Jeff has traded fours with some of the best jazz musicians in the world including: Carl Fontana, Bobby Shew, Billy Higgins, Ed Bickert, Lionel Hampton, and Freddie Hubbard.
Dave Captein is an accomplished performer on both string bass and bass guitar, having worked as a professional musician for over 40 years in the Pacific Northwest. Dave has performed in a broad range of situations, from symphonic performances to studio and club work, as well as many jazz concerts and festivals around the country and in Europe. He has worked with many well-known jazz artists. He freelances in the Portland area, and is a very active member of the music community, frequently appearing in the city's many clubs and concert venues, as well as recording studios.
A native of Portland, pianist Dan Gaynor has performed with a wide variety of artists. He studied jazz and music theory at Mt. Hood Community College and Portland State University with teachers including Randy Porter, Dave Barduhn, Darrell Grant, Glen Moore, and Tomas Svoboda. Dan is also a versatile vocal accompanist, with a wide repertoire and experience in many musical styles. He is recorded on Good Morning Geek by the Portland Jazz Orchestra, En Route by Ed Bennett and on both Libre and Two Dollars to Ride the Train by Martin Zarzar.
Tyson Stubelek has been teaching drum lessons for over 11 years both in schools and through his private studio. He has toured internationally across Canada, the UK, and throughout the United States, and has studied and played with numerous prominent musicians including: Danilo Perez, Lee Konitz, Dave Holland, Ingrid Jensen, Jerry Bergonzi, Billy Hart, Bob Moses, Joe Locke, Dave Douglas, Clarence Penn, Tony Malaby, Ben Street, Adam Benjamin, and Joshua Redman.