"Knights 4 A Day" introduces high school golfers to college
September 20, 2016
Oregon Junior Golf Association golfers spent a day as honorary members of Warner Pacific College's Knights Golf Teams on Wednesday, August 17, 2016.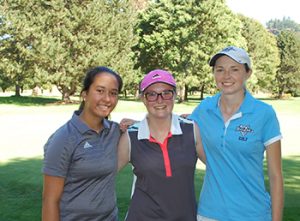 It was an idyllic summer day for golf in Portland and a perfect day for seven local high school golfers to go back to school as part of a first-of-its-kind partnership between the Warner Pacific Knights Golf Teams and the Oregon Golf Association.
"'Knights 4 A Day' is a truly unique, one-of-kind program developed by Warner Pacific Athletics. It uses golf as a pathway to reach diverse and underrepresented high school students," explained Dr. Aaron McMurray,  former Vice President for Institutional Advancement and External Relations. "We hope to inspire and educate young golfers by giving them a taste of what it is like to be a college athlete, even just for a day."
For the junior golfers, their day as a Knight started in the classroom, giving them a true college student experience. An interactive presentation about college admissions and financing provided tips and resources that will help them regardless of what school they ultimately choose.
Paired with a Knight golfer, the students spread out across the Mt. Tabor campus for a scavenger-hunt-style campus tour that even included capturing several Pokémons.  One junior golfer loved "how WPC is right next to a dog park." Their on-campus experience was capped with a workout with a WPC trainer.
Finally, the golfers found their way to the links where they excelled in the friendly competition offered by the nine-hole scramble. The Sah-Hah-Lee Golf Course, along the Clackamas River, challenged them with undulating greens, water hazards, and greenside sand bunkers. Knights coached the junior players with tips that immediately improved their stroke, stance, and score. "I was able to share some drills and practice techniques that will help them make it to the next level with their golfing," said Warner Pacific golfer Jacob Berg. "It was fascinating to think that only four years ago I was in their shoes and now I am starting the last competitive season of golf in my life! It was a humbling experience."
By the end of the day, the junior golfers really saw the difference between playing for a high school team and playing at college level.
Warner Pacific golfer Quincy Anderson remembered "how I felt when I was their age. I was so unsure of college and what it would be like." She wishes there would have been a program like this when she was exploring colleges and enthusiastically supports future Knights-4-A-Day events.
Because of this innovative introduction, several of the junior golfers expressed serious interest in making Warner Pacific their top college choice.
"Thank you to Warner Pacific and the Warner Pacific Golf Teams for inspiring junior golfers and for encouraging them to continue having fun playing golf while looking ahead to college opportunities," expressed Robyn Lorain, Certified PGA, Director, Oregon Junior Golf for the Oregon Golf Association. "We are very impressed with how well rounded the entire day was and filled with so many experiences – the scavenger hunt, lunch, and golf. Your golfers certainly made the juniors feel special."
Oregon Junior Golf introduces youth to the sport, encouraging friendships and a life-long love for the game for young golfers of all skill levels. Oregon Junior Golf offers both competitive and non-competitive junior golf playing opportunities.