Kidesti Tadesse to Lead Enrollment Team
July 11, 2017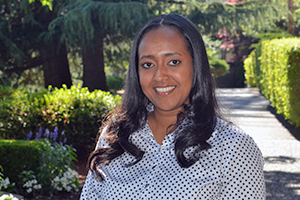 Kidesti Tadesse has joined the Warner Pacific team as the Director of Admissions for Traditional Programs, bringing with her a decade of professional enrollment experience at three prior institutions.
"The mission of the College will be the foundation in all recruitment efforts as we serve prospective students and their families," explains Tadesse. "I am honored and proud to have the opportunity to share the value in pursuing a college education at Warner Pacific."
Even as an undergraduate student, Tadesse was active in the admissions process, working as a tele-counselor and office intern at Penn State. Upon graduating, she was recruited to be an Admissions Counselor at Neumann University. At Neumann, she was recognized for her accomplishments and leadership ability and was promoted through the ranks, eventually being named Director of Admission.
Tadesse then transitioned to the role of Director of Undergraduate Admission at Philadelphia University for two years, before she and her husband relocated to the Portland area in January 2017. Kidesti Tadesse brings a passion and understanding for serving first-generation college students and believes strongly in the importance of prospective students visiting campus. Her references spoke highly of her service to students, the development of her team, and a genuine care for people.
"I look forward to the opportunity to work collaboratively with my colleagues," says Tadesse. "I am also excited to be a part of such a wonderful close-knit community that embraces diversity!"
As Director of Admission for Traditional Programs, Tadesse is responsible for managing the day-to-day operations of the traditional admissions department including developing and implementing recruitment strategies to enroll students in line with institutional goals and targets. She earned her M.S. in Education: Instructional Leadership from Neumann University and a B.S. in Human Development and Family Studies from The Pennsylvania State University.