Inductees into the Knights Athletic Hall of Honor
January 7, 2014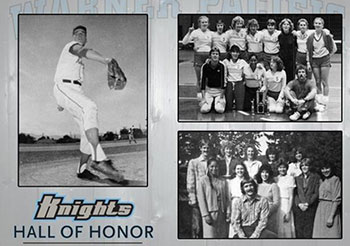 During Homecoming weekend (February 6-8), we will induct Darcy Fast and the 1982 and 1983 volleyball teams into the Knights Athletic Hall of Honor.
"Our tradition of inducting outstanding alums into our Athletic Hall of Honor continues with our 2014 class," said Athletic Director Jamie Joss. "The Knights Club has selected very deserving former athletes and we are excited to welcome the committee's selections back to the campus to share their special time at Warner Pacific with our current student-athletes during the homecoming weekend."
Fast and the volleyball team will be honored on Saturday, February 8, during the Hall of Honor Dinner, and be recognized at half-time of the men's basketball game.
Darcy Fast: Baseball and Basketball, 1965-67
Though drafted by the New York Yankees in the 7th round, Fast enrolled at Warner Pacific College in 1965. He participated in basketball and baseball for the Knights during the 1965-66 and 1966-67 seasons and was named All-Conference in both sports.
Drafted again in 1967, this time by the Chicago Cubs in the 6th round, Fast signed a professional contract and started pitching in the minor leagues. Quickly promoted to AAA Tacoma, he broke Hall of Famer Juan Marichal's Pacific Coast League strike-out record in his first appearance.
Darcy's reputation as one of the top pitching prospects in the Cub's organization and his fast rise to the Major Leagues continued when he was called up by the Chicago Cubs in 1968 with less than one year of professional experience. Fast appeared in eight MLB games for the Cubs, and struck out ten batters in ten innings pitched. He also walked eight and gave up six earned runs and eight hits. His professional career lasted four seasons, from 1967–1970.
After leaving professional baseball, Darcy entered Christian ministry and served as Senior Pastor of Centralia Community Church for over thirty years. His life has been profiled in the Chicago Sun Times and Sports Spectrum Magazine as well as baseball books and magazines, and countless newspapers throughout the country. His book – The Missing Cub – a memoir of his baseball career and life's calling was published by Xulon Press in 2008.
He is a lifetime member of the Major League Baseball Players Alumni Association and the Association of Professional Ball Players of America.
1982 and 1983 Volleyball Teams
The pinnacle of success for Warner Pacific College Volleyball was in the early 1980's, as the program won back-to-back NCCAA National Championships in 1982 and 1983. The Knights were coached by Gene Kreiger (82), and Terry Thomas (83).
Overall record 1982: 28-9, 1983: 38-10.
Roster:
Holly Snow: Eugene, Ore.
Angel Humphrey: Corbett, Ore.
Carol Trejos: San Jose, Costa Rica
Kristi Reiser: Springfield, Ore.
Barbara LaFont: Portland, Ore.
Diane McGraw: Oregon City, Ore
Sharon Bergstrom: Mollala, Ore.
Glenna LaFont: Portland, Ore.
Karen Harris: Springfield, Ore.
Paula Krekow: Estacada, Ore.
Becky Farmer: Portland, Ore.
Vicki Rich: Kennewick, Wash.
Marie Snelling: Vancouver, Wash.
Chris Yates: Madera, Calif.
Karen Harris: Springfield, Ore.
Kathy Hutchinson: Seattle, Wash.