Honoring our Distinguished Alumni
March 21, 2017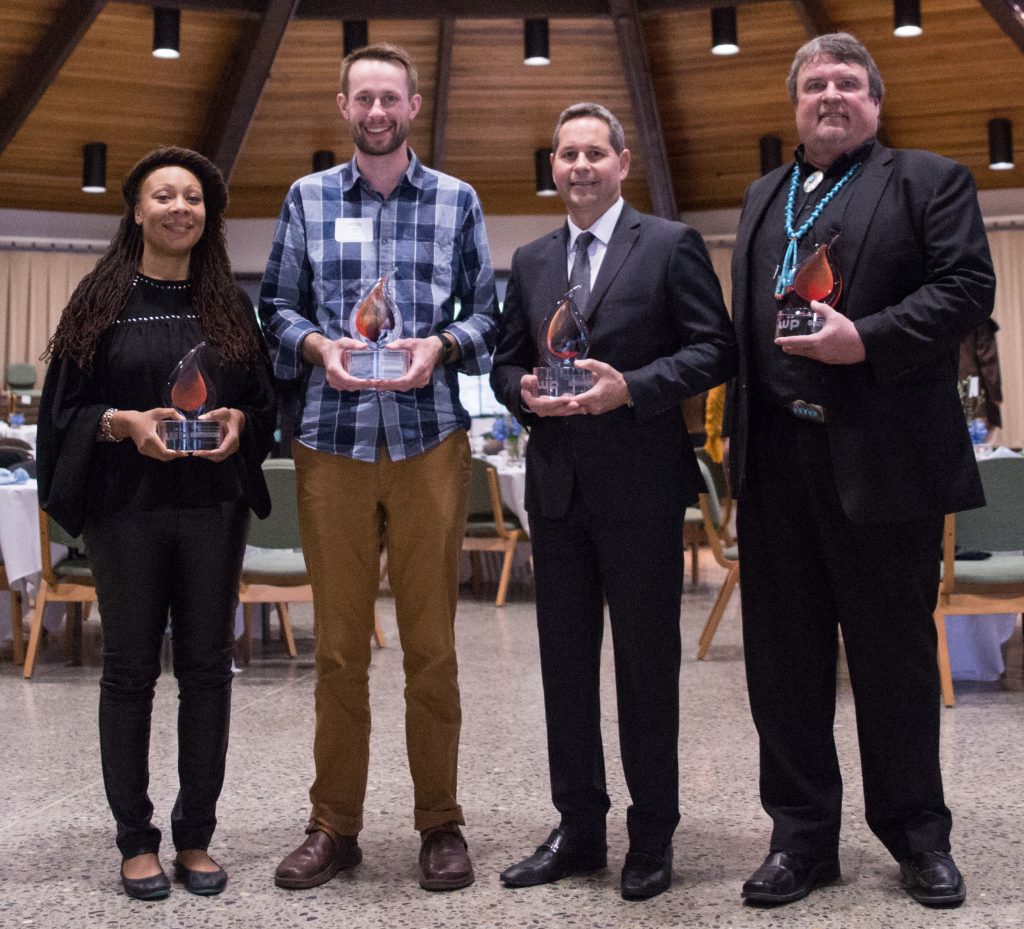 During the 2017 Warner Pacific College Homecoming Weekend (February 17-18), four outstanding alumni were honored for their professional and community achievements.
Distinguished Alumni Award, Adult Degree Program (ADP) – Sah'Rah Kelsey Bay '02, Executive Director for Sista Sistah, an after school program for young girls and women of African descent in NE Portland.
As the Executive Director and founder of Sista Sistah, she is able to engage, educate, and inspire young women with a culturally responsive program that increases self-efficacy and awareness. The organization's goal is to increase high school graduation rates and self-esteem for these young ladies.
In addition to the after school program, she reaches African-American women of all ages through Sah'Rah Stylz, a community based organization that focuses on beauty, mental health, and wellness.
Through the Warner Pacific Adult Degree Program, Sah'Rah earned a Bachelor of Business Administration which strengthened her leadership and organizational skills.
The College's Adult Degree Program has 10 degree programs designed for busy, working adults. For over 25 years, Warner Pacific has been offering a high-quality education with a liberal arts foundation one night a week or online.
Distinguished Alumni Award, Professional/Academic Achievement – Anthony Hicker '87, Business Director, Deputy to Sr. Vice President of NE Asia Sales: Boeing Commercial Airplanes
A liberal arts education laid the foundation for managing global commercial ventures for the United States' largest exporter, The Boeing Company. Tony joined Boeing Company in January 1998 and has served the company in many ways. Currently he is responsible for managing business operations in support of commercial airplane sales and related services to airlines and lessors across NE Asia.
Tony gives back and supports the career aspirations of college graduates and interns from diverse backgrounds by offering them mentoring and guidance as they find their unique path to business.
Distinguished Alumni Award, Recent Alum – Andy Magel '05, Mile High Ministries Social Enterprise Director (Denver, CO), a nonprofit that creates employment opportunities and provides job training for those seeking to rebuild from addiction, homelessness, and incarceration.
A Business Administration and Social Science graduate, Andy applied his business acumen in a way that empowers vulnerable and underprivileged people in Denver, CO.  "I am passionate about creating redemptive employment opportunities."
"What I like about working with Mile High Ministries is their willingness to take risks for the betterment of our city and the freedom that gives me to pursue creative opportunities for those in need." Andy's hope is to see Denver lead the way in creative, employment-focused community development. "I am honored to play a role in that growth."
Distinguished Alumni: Ministry & Service Award – Mark Forster '82, P.E. Teacher at Valley High School & Sanders Middle School – Sanders, AZ
Mark hopes to change a society for the good by creating opportunities for people to succeed. In a very depressed area of Arizona outside the Navajo Reservation, Mark picked basketball as his instrument of community transformation. He started as the high school coach in 1986. Taking a team with a defeatist attitude and record to match, he used love of self, community, and the game to create a winning team. After 29 years of coaching at Valley High School, he had only one losing season and now the 1200-seat gym is always full of spectators.  For 12 years in the 1990s he ran an innovative Pee Week Basketball Program providing young players with the fundamentals of the game as well as guidance in positive life skills.
Basketball changed the community's social outlook. He recalls that "parents become more and more involved with their children's lives which combats negativity."  Mark has had numerous opportunities to "advance" his coaching career by way of job opportunities at larger high schools and even at the college level, but he chose to stay serving his community. He has made a life-long commitment to the Navajo community because he believes that is the way one person can change society.