Graduates Honored at May Commencement Ceremony
May 18, 2018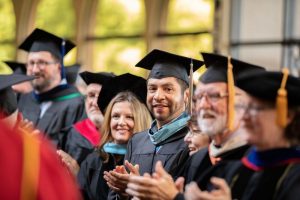 "Access to higher education should not be a luxury for the privileged few. Students, especially those who have been historically underserved in academia, deserve the opportunity to be empowered as they earn their degree in an environment that will serve them personally, connect them relationally, and educate them holistically."– Dr. Andrea Cook
Saturday, May 5, 2018 Warner Pacific welcomed new alumni! The class of 2018 included students receiving their associate, bachelor, and master degrees from both the Traditional and Professional and Graduate Studies programs at Warner Pacific. Members of the diverse graduating class were all smiles as they anxiously awaited the moment when they transition from student to graduate.
Many Warner Pacific students are the first in their families to graduate college, paving the way for others. For some, going back to school while juggling a career and family seemed impossible until this day. Chants of, "we did it" and "we made it" filled the auditorium as students celebrated this significant achievement, surrounded by classmates, faculty, and loved ones.
Montse spoke on behalf of the Traditional student body. Montse's words were powerful and uplifting, encouraging her fellow classmates that the journey has only begun.
Lestan Loomis earned his degree in the accelerated one night a week format. His remarks focused on the sacrifices he had to make in order to go back to school. Although hard at times Lestan believes it was the best choice he could have made for his wife and daughter. He addressed his fellow classmates with pride and enthusiasm, congratulating them on overcoming the obstacles they may have faced to reach their graduation day.
President Cook's charge to the Class of 2018 was to take what they have learned and experienced at Warner Pacific, and go with confidence into their next chapter, ready to work for positive change in our communities.
Honorary Doctorate of Divinity awarded to Rev. T. Allen Bethel.
Student Awards:
A.F. Gray Award: Guadalupe Montserrat "Montse" Astorga Ramos
Marshall K. Christensen Award: Rebecca Marie Anna
Milo L. Chapman Award: Julianna Edwardson
Wilma I. Perry Award: Nicholas Stocker
Faculty Awards:
Professor Emeritus: Dr. Pamela S. Plimpton
Professor Emeritus: Dr. Connie R. Phillips
Kendall Award for Excellence in Teaching: Prof. Arthur M. Kelly
Kendall Award for Excellence in Scholarship: Dr. Cassie J. E. H. Trentaz