Freshmen impact Portland City Council vote
December 6, 2013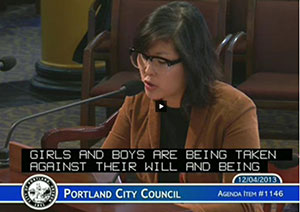 The freshmen of FYLC: Faith, Justice, and Portland  had their voices heard during the December 2, 2013, testimony before Portland City Council as the Council voted to amend the 2013-14 City budget to include appropriations for funds to address human trafficking.
Throughout the fall semester, these students learned about the issue of the commercialized sexual exploitation of children in Portland and the massive impact that it has on our city.
During the November 21, 2013, Chapel, the students made a thought provoking presentation about  human trafficking found right here in Portland. (Listen to the audio recording.) At that time, they provided everyone in attendance the opportunity to be a force for positive change in our  community by signing a petition  in support of the budget amendment.
During the December 2 Council meeting, Professor Stephanie Mathis presented a letter to the Council on behalf of the FYLC students as well as the signed petition. (Watch the presentation here – go to time mark 105:02.)