Fall Music Concerts
November 13, 2017
This month there will be three opportunities to hear and experience the musical talents of Warner Pacific students. Come out and enjoy the beautiful music WPC is sharing!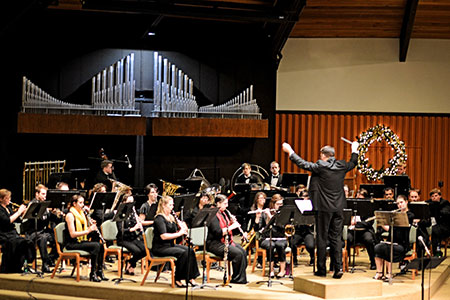 The WPC Music Department presents its Annual Fall Jazz Concert on Wednesday night, November 15 at 7:30 pm in McGuire Auditorium. Kelly Ballard directs Vocal Jazz and Gene Burton leads the Jazz Band in rock, ballad, funk, and jazz styles. This event is free and very family friendly.
Dr. Kelly Ballard directs the Concert Choir and Warner Chorale in their Fall Choral Concert on Saturday, November 18 at 7:30 pm in McGuire Auditorium. Featuring gospel, classical, and contemporary works by Thomas Morley, Randall Thompson, Eric Whitacre and others, this is a free family friendly concert.
All are invited to attend the Warner Pacific Wind Ensemble in their Winter Concert on Wednesday, November 29 at 7:30 pm in McGuire Auditorium.  Under the direction of Gene Burton, the Ensemble will feature works from composers of a variety of eras and styles. This concert will also feature some of your holiday favorites presented not only by the Wind Ensemble, but also our brass choir and saxophone quartet.
All events are free, family friendly and open to the public.
-Cristina Lopez Alonso '19