Dr. Gary Laustsen Named Associate Dean of Nursing
June 18, 2018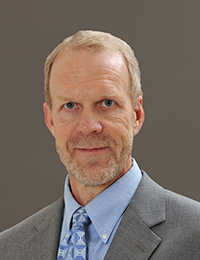 Gary Laustsen, Ph.D., RN, FNP, FAANP, FAAN joins the growing Warner Pacific University Nursing Program as Associate Dean and Professor of Nursing. An expert teacher and clinician, he has deep roots in Oregon nursing practice and education with a special focus on providing equitable health care to communities historically underserved by the medical profession.
Dr. Laustsen brings a diversity of experiences to Warner Pacific, having worked as a registered nurse (RN), family nurse practitioner (FNP), and nurse educator at the baccalaureate, master, and doctoral levels. A nursing professional for nearly 30 years, he believes in client-focused, collaborative care that incorporates health promotion and prevention.
"We are excited and incredibly pleased to have Dr. Laustsen full-time in our Department of Nursing," said Dean of Nursing Dr. Linda Campbell. "He is mission-driven in all pursuits and brings extraordinary depth and breadth for leadership in accreditation, instruction, and simulation. Of note, he has developed a nursing ecological theory to facilitate students' clinical reasoning about intended and unintended consequences of rapidly evolving health care."
Dr. Laustsen is involved with many nursing organizations including the American Academy of Nursing (AAN), National Organization of Nurse Practitioner Faculties (NONPF), American Association of Nurse Practitioners (AANP), and the national nursing accrediting organization Commission on Collegiate Nursing Education (CCNE). Through his own research and as a manuscript reviewer for numerous nursing journals, he seeks to expand nurses' influence in the care of rural and underserved populations, as well as promote a "greener" nursing practice. Dr. Laustsen has been recognized as the 2011 Nurse Practitioner of the Year (Oregon), and as a Fellow in the American Association of Nurse Practitioners and Fellow in the American Academy of Nursing.
"I feel blessed to have the opportunity to share my passion for nursing here at Warner Pacific University," said Dr. Laustsen. "There is an evident congruency between nursing's core values and Warner Pacific's faith-based, liberal arts academic culture. It will be a perfect environment for nursing students to live our motto of faith and knowledge leading to service. We envision our graduates as competent caregivers, successful leaders, and spiritual stewards for the health of all humans."
Dr. Laustsen holds a B.S. from Goshen College; M.S. from Southern Oregon University; B.S.N. from Regis University; M.S.N. from University of Northern Colorado; and a Ph.D. from University of Colorado Health Sciences Center.