Changing Focus: Warner Pacific Alumnus Vic Gilliam Leaves Oregon House of Representatives
February 3, 2017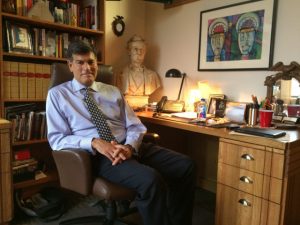 Warner Pacific alumni often leave the College with a degree in their hand and a passion to serve others in their heart.  It is truly inspiring to see the many ways in which a Christ-centered, liberal arts education cultivates leaders who are prepared to engage actively in a constantly changing world.
Alumnus Vic Gilliam '75, a ten-year veteran in the Oregon House of Representatives, is an inspirational embodiment of how you can remain true to God's call to love and serve your neighbor, even in the face of public and private challenges.
On Monday, January 20, 2017, Gilliam announced that he was stepping down from the Oregon House of Representatives in a letter stating: "I am extremely grateful and honored by the confidence you have placed in me for over a decade.  However, several changes in life show it's time to announce my resignation as your State Representative."  In November 2015, Representative Gilliam announced he was experiencing the symptoms of amyotrophic lateral sclerosis, also known as ALS or Lou Gehrig's disease. In the midst of this difficult time, he continued to point to God's goodness in an honest and heartfelt letter penned to his constituents.  "I also wanted to share that faith has been crucial for facing this new chapter of life. Becky and I are finding comfort in these words of Jesus: 'I have told you these things, so that in me you may have peace. In this world, you will have trouble. But take heart! I have overcome the world.'"
He pledged to serve as long as his health allowed. During the 2016 legislative session, Gilliam's ALS symptoms became more noticeable. ALS is an incurable nervous system disease that weakens the body's muscles. "After prayer and consulting family and friends, I was led to the decision to resign for reasons including fairness to you my constituents."
"Vic embodies the mission of the College through his strong gift of leadership and his deep commitment to civic engagement and service," said Warner Pacific President, Andrea Cook. "Vic has spent his life serving others not for the prestige or power, but because of his love for God and His people."
Colleagues in the legislature laud Gilliam for his sense of humor and ability to reach across the aisle to get the state's work done.  "He served his community with honesty and integrity, and he is without a doubt the funniest guy in the Capitol," remembers Oregon House Speaker Tina Kotek.
"People like Vic are increasingly rare in this world," said House Republican Leader Mike McLane. "While his time in the Legislature has come to a close, I believe his legacy will fill the halls of the Capitol for years to come. He is, and will always be, the embodiment of what it means to be a public servant in Oregon."
From 2007, Representative Gilliam represented House District 18, which includes Silverton, Molalla, Hubbard, Aurora, and Mount Angel. In July 2016, the Oregon Business Association selected Gilliam as their 2016 "Statesman of the Year." Warner Pacific presented him with an Honorary Doctor of Law degree during the May 14, 2016, graduation ceremony.
Vic has lived in Silverton, Oregon, since 1998 and has raised three children with his wife, Becky. In addition to serving as a state representative, he had a 25-year career as a development executive with non-profit organizations including Willamette University, Oregon Health & Science University Foundation, International Youth Foundation, and Mercy Corps.
As he looks toward a future as a private citizen, he intends "to turn my primary focus on personal faith and the important path as a follower of Jesus" using the words of Paul an Apostle of Jesus as an example of God's comfort during current challenges:  '… God has called you to a free life. Just make sure that you don't use this freedom as an excuse to do whatever you want to do and destroy your freedom. Rather, use your freedom to serve one another in love; that's how freedom grows. For everything we know about God's Word is summed up in a single sentence: Love others as you love yourself. That's an act of true freedom. If you bite and ravage each other, watch out—in no time at all you will be annihilating each other, and where will your precious freedom be then?'" (Galatians 5: 13-15)
Warner Pacific College congratulates Vic Gilliam on his remarkable accomplishments in both the private and public sector. We wish him all the best as he and his family continue to seek God's guidance in this next chapter.