Celebrating the life of Professor Christine Tokonitz
August 19, 2015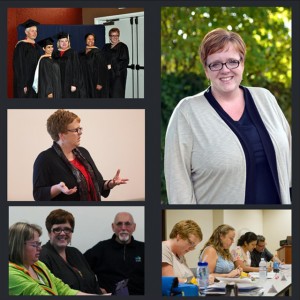 It is times like these that we lean heavily on our faith.
Warner Pacific lost a dear and valued member of our community on Monday morning (August 17, 2015) with the passing of Christine Tokonitz, Assistant Professor of Health Care Administration.
On August 12, Chris was diagnosed with a very rare and aggressive form of cancer, Leiomyosarcoma – Stage IV and, unfortunately, succumbed to the disease quite rapidly.
Chris had two passions in her life, her family and the College's Health Care Administration program.  "Chris put her heart and soul into the program and her students.  We will do our best to honor her well as we continue the work that she loved," said Dr. Lori Jass, Associate Vice President for the Adult Degree Program. "She was an exceptional gift to all of us at the College, and I know that those in her program feel a special connection to her and grieve her passing."
She entered the WPC Adult Degree Program in the associate's program, and completed both her bachelor's and master's degrees while working full time and being a mother to her three busy kids. In fact, Chris was pursuing her doctoral degree at the time of her passing.
"She's been an integral part of our ADP community and truly beloved by our Health Care Administration students," commented Meg DuMez, Assistant Professor, Senior Academic Advisor for the Adult Degree Program. In 2007, Chris joined the WPC staff as an ADP financial aid counselor, moving into the role of academic counselor in 2009. She then became an Assistant Professor of Health Care Administration (for both the traditional and ADP) helping others achieve their dreams of a degree and fulfilling career. Chris spent countless hours building online courses for the program.
"We are so deeply saddened by the loss of the friend and colleague we all had in Chris," said Dr. Andrea Cook, President of Warner Pacific College. "She lived with such passion and excelled in serving our students on the traditional campus and through the Adult Degree Program. I ask that you keep her family and extended family in your prayers as we all cope with this loss."
Chris leaves behind a loving husband (George) and three amazing children (Alex 17, Faythe 12, and Conor 10) as well as an extended family and friends.
The Warner Pacific community came together Tuesday afternoon to remember and honor Chris. Common threads in the stories and memories included her overwhelming enthusiasm for the Health Care Program and her students. Teaching at Warner Pacific was exactly where she belonged and she thrived in that awareness. She genuinely cared for people and had a warm inviting spirit and a welcoming smile. The biggest lesson we can take from Chris's spirit-filled life is to live each day with gratitude and joy since it is a gift from God.
A Memorial Service will be held at Mt. Scott Church of God (10603 SE Henderson Street, Portland, Oregon  97266) on Sunday, August 23, at 3 pm. 
So we are always of good courage. We know that while we are at home in the body we are away from the Lord, for we walk by faith, not by sight. Yes, we are of good courage, and we would rather be away from the body and at home with the Lord. 2 Corinthians 5:6-8