Campus Gathers for Solar Eclipse Viewing
August 14, 2017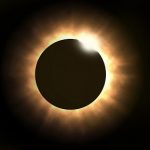 The first day of classes is always exciting at Warner Pacific but this year is extra special as we look to the sky to experience a "once in a lifetime" event,  the 2017 Solar Eclipse! On Monday, August 21, students, staff, and faculty will gather from 9:30 – 10:30 a.m. to follow the sun on this momentous morning with a schedule that will celebrate and educate, but not cause too much interruption to classes.
Here's what you need to know:
All students and faculty are expected to attend their regularly scheduled classes on the first day, August 21. All classes will be held as usual and campuses will be open; staff are invited to participate in the viewing with students and faculty.
From 9:30 -10:30 a.m., students, faculty, and staff are welcome to gather on the lawn and watch the sky darken. Dr. David Terrell, Professor of Physical Science, will provide context for what we are seeing and information about the phenomenon that we are witnessing.
Streaming televised coverage will be available in McGuire Auditorium for those who wish to see how the eclipse is being seen across the country. Resource information is also available in the library and you can learn more through the Oregon Observatory.
Commemorative Warner Pacific eclipse glasses will be available for $1.
In order to accommodate this viewing, the class schedule for August 21, 2017 will be as follows:
8:00-8:50 classes meet 8:00-8:40 a.m.
9:00-9:50 classes meet 8:50-9:30 a.m.
Break for eclipse coverage 9:30-10:30 a.m.
10:00-10:50 classes meet 10:30-11:10 a.m.
11:00-11:50 classes meet 11:20 a.m.-12:00 p.m.
12:00-12:50 classes meet 12:10-12:50 p.m.
1:00-2:15 p.m. classes meet as scheduled