Esteemed Athletic Director Bart Valentine Inducted into Athletic Hall of Honor
March 7, 2017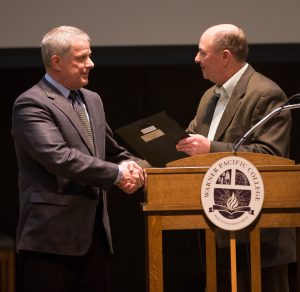 Former Warner Pacific Athletic Director, Head Coach, and faculty member Bart Valentine was inducted into the Warner Pacific Athletic Hall of Honor during 2017 Homecoming festivities in February.
In front of a group that included family, friends, and alumni, Valentine became the 10th individual inducted since the Hall of Honor was established in 2012. Jared Valentine and Demarcus Best were featured speakers, who along with many others during an open mic session, paid tribute to a beloved husband, father, coach, and mentor.
"Following my graduation from Warner Pacific with my biology degree and teacher's licenses in hand, my goal was to be a head boys' basketball coach at the high school level," recalls Valentine.  After many years coaching at several schools, he was presented with an opportunity that would bring him back to his college alma mater. "In the spring of 1997, I received a call from then President of Warner Pacific, Dr. Jay Barber. He asked if I would be interested in coming to work as the Director of Athletics and the Head Men's Basketball Coach."
Warner Pacific was set to reinstate intercollegiate athletics after a seven year hiatus.
Valentine continues, "Honestly, I had no plans to coach at the college level. I loved what I was doing and did not see Warner Pacific as a good professional opportunity. I didn't tell Dr. Barber this but in my mind I'd already said no this opportunity. However, after time in prayer and counsel from a few people, I decided to take on the challenge. And believe me, it was a real challenge! I realized that God was asking me to go back to Warner Pacific and be part of creating a great college experience for the athletes. God opened the door and I needed to be obedient and walk through."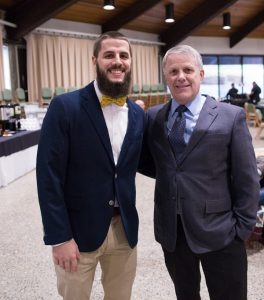 His career at Warner Pacific spanned 15 years and included 10 years as the Director of Athletics, 12 years as the head Men's Basketball Coach, and 5 years as a full-time math professor and Chair of the Department of Natural Sciences and Health.
"The legacy of my life's work resides in the lives of my players and students."
Valentine was presented a plaque that read:
With a career that spanned over 30 years at both the high school and college levels, the State of Oregon has seen few coaches who can match the success of Bart Valentine.
After graduating from Warner Pacific in 1976, Valentine began coaching and teaching at Molalla Middle School. Just six years later, he achieved a professional milestone when he was named the boys varsity coach at Colton High School. The impact of his leadership was felt immediately, as he led his team to the state championship game and was named the OSAA 2A Coach of the Year.
His next position was at West Linn High School where his success as a coach continued. In his 12 years as head coach at West Linn, Valentine led his teams to a state championship title in 1997 and was named OSAA 4A Coach of the Year twice.
Valentine returned to his alma mater in 1999 to revive the athletic program as both the director and the men's basketball coach. Under his leadership, the resurrected Knights grew from four sports to eleven and his basketball teams were perennial winners. He has two Cascade Conference titles to his credit, and with his guidance, the Knights qualified for the NAIA National Tournament six times. Valentine's win-loss record as head coach at Warner Pacific is 233-157.
As a coach and administrator, he exemplified WPC's Christ-centered mission. The Knights are proud to play their home contests at "Bart Valentine Court."
(Excerpts from the Warner Pacific Knights website.)