Athletic Trainer Joins Faculty to Support New Major
July 31, 2017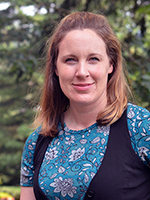 The Knights' Head Athletic Trainer is taking her expertise to the classroom this fall. Amy Engilis has spent nine years providing injury evaluation, prevention, and rehabilitation for the athletes on the College's 13 athletic teams. In August, Engilis will join the faculty as Associate Professor of Sports Medicine for the newly developed B.S. in Sports Medicine.
With openings in the Sports Medicine and athletic training fields predicted to increase 21% over the next 10 years, this new program has the potential to open the door to exciting careers for students who have a passion for health and wellness. Majoring in Sports Medicine can be the first step in many career paths including athletic trainer, physical therapist, exercise physiologist, and physician.
Professor Engilis completed her bachelor's degree at San Diego State University and has a master's degree in Kinesiology from San Jose State University. She was recently published in Athletic Training and Sports Health Care. The article highlighted research using easy pre-season jump tests on NAIA female athletes and found those with previous ACL reconstructions jumped significantly shorter distances. This has future implications for finding these at-risk athletes and focusing their strengthening and conditioning to address deficits and lower injury risk.