A Rising Star Advocating for Vulnerable Citizens: Warner Pacific alum working for positive change for those with disabilities
February 9, 2017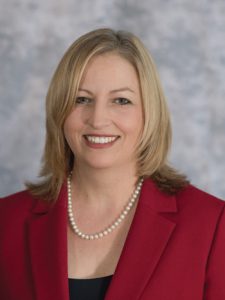 Warner Pacific alumnae Sonya Fischer '88, is an inspiring example of how the College prepares students and alumni to become active change agents for their communities. We congratulate Fischer on her recent appointment to the Clackamas County Board of Commissioners, a place where her servant's heart will flourish while acting for the betterment of the county's most vulnerable citizens.
She came to a turning point with the intersection of her education and her personal experience. "As a mother of a child with significant disabilities, I found myself working hard to gain access to services and education," recalled Fischer.  After earning her degree in Sociology and Social Work from Warner Pacific, Sonya began her life-long journey helping parents of children with disabilities secure important early intervention services, including schooling.
Fischer elevated and expanded her ability to positively impact this vulnerable community by continuing her educational journey through law school at Lewis & Clark. Her compassion for and understanding of her client's struggles guides how she focused her Portland-area law practice on family and juvenile law, special education, and guardianships.
"It is very encouraging to learn about alumni who are positively impacting our community because they are creating an exciting legacy that I am proud to be part of," relates Caitlin Asher '17, Director of the Warner Pacific Social Work Leadership Committee.  "As a Warner Pacific student enrolled in the Social Work program, my cohort of seniors is currently involved with internships in and around Portland.  We are putting classroom theory into practice and preparing for a career in the Social Work field."
For her deep commitment to working on behalf of families and children, Warner Pacific honored Fischer with the 2012 Distinguished Alumnus Service Award. The College recognized her over 20 years of advocating for the rights of vulnerable people in Oregon.
Selected as an Oregon State Bar Super Lawyer (2009-2012), Fischer served on the Oregon Council on Developmental Disabilities, worked with the Oregon Department of Human Services, chaired the FACT: Family and Community Together Policy Committee for the Clackamas County Bar Association, and is involved with the ARC of Multnomah County.
"When we stand together, we are stronger," is Fischer's mantra as she seeks answers and explores collaboration for her clients and constituents.
KC