After 26 years, Coach Fagan hangs up his cleats
December 1, 2014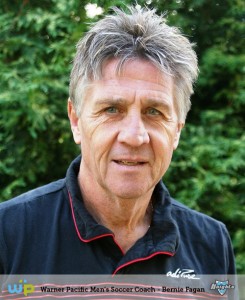 After coaching a mere 497 soccer matches for the Warner Pacific College men's soccer team, long-time coach Bernie Fagan is retiring.
For as long as anyone can remember, men's soccer at Warner Pacific College was synonymous with Coach Bernie Fagan. Well known for his own time on the field, Fagan played for the Seattle Sounders, Los Angeles Aztecs, Detroit Lighting (indoor soccer), and finally the Portland Timbers until they folded in 1982.
The 1982 fall season was Fagan's first at Warner Pacific. He coached the Knights to 11 wins and earned the NAIA District 2 Championship that year. During those heady times of the early 80's, the Knights qualified for the NAIA National Tournament three times, including a best ever third place finish in 1984.
The first half of Fagan's coaching career with Warner Pacific ended after 10 seasons when the College eliminated all athletic programs in 1991.
Read more about Coach Fagan's career at Warner Pacific on the WPC Knight's website.