5 Great Reasons to Pursue a Teaching Degree
August 10, 2016
Teaching is an incredible experience and worthwhile profession. Not only do you have an impact on thousands of peoples' lives, but every year – every day – is different. Chances are you have an age group in mind that you want to work with and field of study that captivates your interests. Imagine being able to gush about your passion while gaining fresh insight on a daily basis. It's no wonder so many people choose to be teachers and professors.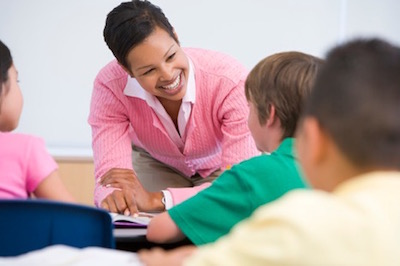 Then again, maybe you're on the fence. Maybe you've had friends, parents, or even colleagues that have painted teaching as a profession that's not all it's cracked up to be. Let's put the naysayers to rest and show you five great reasons why you should pursue a teaching degree.
1. Teachers Will Always Be In Demand
It probably doesn't surprise you to learn that the teaching profession (like nurses and doctors) is always in demand. The National Center for Education Information (NCEI) reported that almost 3.7 million teachers were working in America's elementary and secondary schools alone. That's a lot of teachers! That number is expected to rise to 4 million by 2018, which means teaching provides real job security.
2. Bachelor's Degrees Are Required
There are some people who may be thinking they can find a trade school or certification program that will enable them to be a teacher. However, as the National Center for Education Statistics (NCES) pointed out, just about 98% of all teachers at elementary and secondary schools had a four-year degree or more.
For many states and districts, a Bachelor's degree is the minimum requirement if you want to pursue a career in teaching. So, while a teaching certificate is helpful, it won't function on its own, but in some cases, a teaching degree will be all you need.
3. Teaching Degrees Prepare You For Teaching
There are people that will pursue the five-year route of obtaining a BA degree from a christian college in their field of study and then go on to attain a teaching credential. While this choice is valid and works for some people, it is more common to see these teachers go back to school to receive additional training in teaching.
Meanwhile, earning a teaching degree means that every moment of your education is preparing you to be a teacher. Your courses will teach you more about creating a curriculum, writing lesson plans, managing classrooms, working with children or teens, and how to improve your skills. In short, a teaching degree doesn't simply prepare you to teach your area of interest, it teaches you to be a teacher. For many people, this is the greatest perk because it's personally transformative. You can actually become a teacher in and out of the classroom. Plus, you're far more prepared to handle whatever stressors may come from working in a classroom.
4. An Interactive Teaching Approach
A teaching degree is constantly putting you to work in the field. You're going to be working with actual students over the course of your four years of study. This means real experience that you can put on a resume, but also – and more importantly – learn and prepare from.
The people who tend to pursue their own degree programs and then follow it up with a teaching certification often feel overwhelmed. They worked in a classroom with their peers, discussing the subject matter at a high level. After four years of doing this, the challenge is then to adapt quickly to the much more fast-paced and often rambunctious elementary and secondary school atmosphere. It's challenging and it can throw a five-year plan into disarray and cause self-doubt.
Meanwhile, students who pursue a teaching degree from a christian college are deeply enmeshed in classrooms, gaining real experience, and really seeing how they fit into the role. Moreover, there's more time, so they have an opportunity to acquire much needed feedback from the esteemed staff. They can help you conquer your weaknesses and nurture your strengths.
5. A Teaching Degree Promises More Money
No one jumps into the teaching profession for the money, it's for the active environment, working with young people, and constantly talking about your interests. It's a lot of responsibility (and quite the undertaking), but wholly worth it. That's why, you may be surprised to learn that a teaching degree usually provides the additional benefit of "more money."
Although there's always a demand for teachers, the wages can be very competitive and that's when your unique experience determines your value to the school. You may have someone applying for a teaching position who has a Ph.D. in children's psychology… but if they've never worked in a classroom, you may be surprised by the outcome. Similarly, someone with a Bachelor's in their field of study (who acquired a teaching credential after) may not be compensated for their years' worth of academic experience if they have not had sufficient classroom experience.
However, if you pursue a teaching degree, you not only have four years of experience in the classroom, but you also have esteemed faculty members as references to write recommendations.
In addition to these five reasons, think about this as well: if you're passionate about something, you're going to learn about it. So if you're a history buff or fascinated by the English language, you will continue to read and explore these fields on your own. If you're passionate about teaching however, it's hard to continue exploring that passion without a classroom. You can study teaching in theory, but in order to really understand the profession, you need experience – that's what a teaching degree offers.
DMG