360 Review of Dr. Andrea Cook
January 15, 2015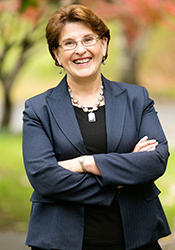 As is required in the Warner Pacific Board Policy Manual, the Board of Trustees has completed a "360 Review" of the performance of the Warner Pacific College President, Dr. Andrea Cook. To facilitate this review, the Board engaged the services of Larry Large, Ph.D., a highly respected and experienced Oregon educator and former university president.
Dr. Large conducted personal interviews with a broad range of Warner Pacific constituents and he received insightful feedback from the faculty, staff, students, members of the Board of Trustees, and leaders throughout the Portland metro area. Dr. Large provided an extensive written report of his findings to the Board of Trustees.
The "360 Review" investigated and synthesized the judgment of Warner Pacific College stakeholders regarding Dr. Cook's performance in her roles and responsibilities. The review provided constructive input that recognized her strengths and successes as well as areas for potential improvement.
The Board determined that the "360 Review" was both complete and comprehensive, thanking Dr. Large for his attention to detail and recognition of key professional measures.
"We are grateful for the attention to detail that was paid to this review" commented Steve Anderson, Chair of the Warner Pacific Board of Trustees. "Larry sought input and opinions from a wide range of people within the academic community of Warner Pacific, as well as others in the city, region, and nation who have observed            Dr. Cook's leadership, and made an effort to identify her professional strengths and areas for development."
Mr. Anderson stated, "As a Board, we are very pleased with this report on Dr. Cook's leadership, both in guiding the College and in representing the College favorably in the city of Portland, the Church of God, and in the Christian academic community. In addition, we are excited about the direction she is taking Warner Pacific as she begins her second five year term as President."