Posted on October 24th, 2023 in News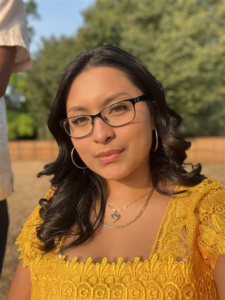 We're thrilled to introduce you to Gelsi Tuz, a current WPU senior and Portland native who embodies the spirit of our tight-knit community. Her journey to becoming a Knight is a testament to the unique qualities that set Warner Pacific University apart from the rest. 
Born and raised in Portland, Gelsi's path to Warner Pacific began with a serendipitous encounter at a Cesear Chavez conference. Her passion for learning and earning the distinction of being a first-generation Hispanic student in her family led her to reach out to our admissions office. From the very first conversation, Gelsi felt a deep connection with the university's values of inclusiveness and support, values that she found were often lacking at other institutions. 
"I find it easy to thrive at Warner Pacific University!" exclaimed Gelsi Tuz. 
So, what makes WPU stand out in Gelsi's eyes? 
Diversity: Warner Pacific is a place where students from diverse backgrounds, with unique stories and experiences, come together to learn and grow. Gelsi even served as a "Peer Mentor," allowing her to delve deeper into understanding the challenges that students from different backgrounds face. 
Creativity: Gelsi appreciates that Warner Pacific encourages students to express their creative side on campus. For instance, through the university's scholarship cohort known as the City Builder Program/Act 6 Program, students designed a beautiful mural in the Student Life Center. Thanks to support from SSE, this mural brought vibrancy to the Student Center and has been so well received that students will continue to add to it in the years to come. 
Community: As a Hispanic Serving Institution, Warner Pacific offers a strong sense of community. Getting involved in campus clubs and various roles, like Gelsi has, plays a vital part in contributing to a sense of belonging. 
As we conclude Hispanic Heritage Month, Gelsi reflects on what the celebration means to her: "Feeling Recognized!" She values the opportunity to learn more about her culture, enjoy traditional food, and participate in special events both on and off campus. 
When she's not on campus, Gelsi serves as a digital media lead at her church, Iglesia Rosa de Saron, in Portland, Oregon, where she presents announcements and music to the congregation. 
As for internships, Gelsi had a blast during her summer job at the Multnomah County Auditor's office and is considering a job with them after graduation. 
Gelsi will be graduating in May with a Bachelor of Art in Communications in Community Engagement and a Minor in Digital Media. She's also contemplating pursuing a Masters in Organizational Leadership at WPU! 
To incoming students or those considering Warner Pacific as their new forever home, Gelsi offers these valuable words of advice: 
Explore outside your comfort zone:

Embrace new experiences and challenges.

 

Ask questions fearlessly:

Knowledge is power, so don't hesitate to seek answers.

Maintain balance:

Enjoy the social life and club activities, but always maintain a balance with your schoolwork and personal life.
Is there someone in your life who could benefit from meeting one of our outstanding students? Don't hesitate to give our Admissions Office a call at 503-517-1020. 
---