Posted on August 9th, 2017 in News
Warner Pacific is pleased to welcome Dr. Courage Mudzongo to the Division of Social and Behavioral Sciences as Assistant Professor of Psychology.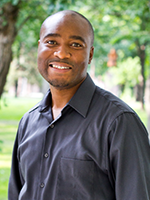 Originally from Harare, Zimbabwe, Dr. Mudzongo imagined a career at an international development agency but while attending college, he discovered that he was truly a sociologist at heart. Dr. Mudzongo's research seeks to expand scholarship on adolescent reproductive health, goal setting, and helping young people take steps to achieve their dreams by preventing pregnancy and disease. In 2013, he had a unique opportunity to do research on the impact of faith-based mission trips on the lives of the people who participated in them.
"It is my desire as an educator that students use their knowledge to improve the human condition," explains Mudzongo. "My approach is to empower students to share and articulate their thoughts and ideas. I teach students to master the art of learning and develop the confidence to ask and discuss questions about human development across the lifespan."
Dr. Mudzongo holds a Ph.D. in Developmental Science and a M.S. in Sociology from North Dakota State University; and a Bachelor of Social Sciences from Africa University, Mutare, Zimbabwe.
Professional affiliations include:
Society for Research on Adolescence
The Society for Research in Child Development
The Honor Society of Phi Kappa Phi
Research and publications include:
Secor-Turner, M., Randall, B. A., Mudzongo, C. C. & Garama, M. (2014). Barriers and facilitators of adolescent health in rural Kenya. Journal of Transcultural Nursing, doi: 1043659614558453.
Mudzongo C. C. & Whitsel, C. (2013). Determinants of child labor in Malawi and Tanzania, Journal of Community Positive Practices, (3), 3-24.
Mudzongo C. C. Understanding Child Work and Child Labor in the 21st Century: Case Study of Malawi and Tanzania. ProQuest.
---